Here we go again. Stay classy, Mississippi
5:03 pm - 11/07/2012
Around midnight on election night, news spread on Twitter that a group of University of Mississippi students were protesting President Obama's reelection. The crowd quickly grew from a few dozen to as many as several hundred, and the rhetoric took an ugly turn as some people shouted racial slurs.
The Daily Mississippian
student newspaper reported
that hundreds of students "exchanged racial epithets and violent, politicized chants." And a photo posted on Twitter shows a campaign sign being set on fire: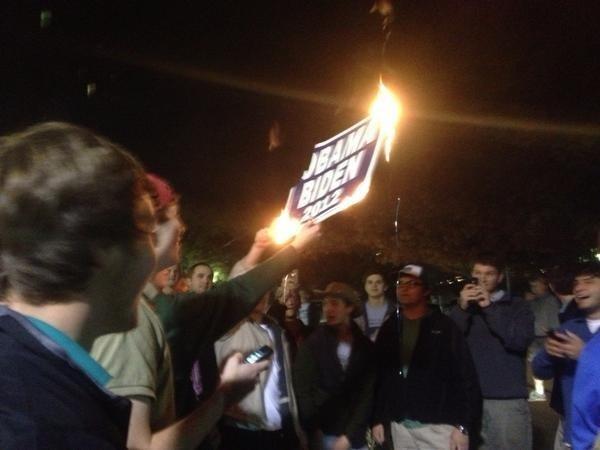 Two people were arrested, one for public intoxication and one for failure to comply with police orders. There were no reported injuries or damaged property. But the southern university's racial climate again came under scrutiny.
Chancellor Daniel W. Jones released a statement on Wednesday saying the matter was under investigation but that the reports of "uncivil language and shouted racial epithets" appear to be true. Jones condemned such behavior.
"As we have acknowledged throughout this year of recognizing fifty years of racial integration at our university, despite evidence of progress, we still live in an imperfect world," he wrote in an e-mail to the campus community. "All of us in the university community must recommit ourselves to condemn hate and to continue our work to assure our university is a safe and welcoming place for every individual every day."
Ole Miss has been working to distance itself from its tumultuous past, even if that means ending traditions some alumni and others want to continue. In 2003, the school ditched its longtime mascot, Colonel Reb, a plantation-owning Southern gentleman. And the school band no longer plays "Dixie" and "From Dixie with Love."
The university's William Winter Institute for Racial Reconciliation is organizing a "We are One Mississippi Candlelight Walk" that is set to begin at 6 p.m. A Facebook invitation for the event reads: "This walk is simply the beginning of how we will respond to this incident."
Source:
Washington Post