Officers Todd and Munley, and the confrontation at Fort Hood
8:06 pm - 11/12/2009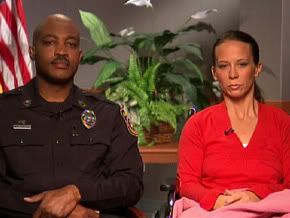 Sgt. Todd and Sgt. Munley on
The Oprah Winfrey Show
On November 5th, in Killeen, Texas, there was a massacre inside the military base of Fort Hood which resulted in the death of 13 people and the injuries of dozens. It was Thursday evening and there were such chaos and shock that initially, the news were confused about the number and state of the shooter(s) and the people who responded.
NBC News
reported that
'One gunman was reportedly in custody and another was on the loose'
.
By Thursday night, civilian police officer Sgt. Kimberly Munley, who had confronted the
singular
gunman and was wounded, but survived, was hailed by sources such as the Houston & Texas News,
Chron
, as the lone hero of the hour:
she stood ground, even as the bullets hit her
.
One week after the Army psychiatrist Maj. Nidal Malik, had killed and wounded his colleagues using two handguns, what is certain now was that Officer Munley was not the
lone
hero who brought down the assailant. On Wednesday, James C.McKinley Jr. of
The New York Times
, reports
At Fort Hood, Witness Credits Second Officer
, that
1.
"Major Hasan wheeled on Sergeant Munley as she rounded the corner of a building and shot her, putting her on the ground.", and
2.
"Senior Sgt. Mark Todd, a veteran police officer, rounded another corner of the building, found Major Hasan fumbling with his weapon and shot him."
On Wednesday, police partners Sgt. Munley and Sgt. Todd appeared on "The Oprah Winfrey Show (
The Heroes of Fort Hood
). Daniel Nasaw of
guardian.co.uk
, noted in
New account of Fort Hood shooting...
that "Munley insisted that she fired at Hasan, but did not say whether she had hit him. Todd talked of firing the shots that brought down Hasan - the first time he had ever fired at a human being in his 25-year career - but could not say whether Hasan had already been shot."
Previous Post