Judge Orders Nikon to Hold 'Comfort Women' Photo Exhibit
8:53 pm - 06/25/2012
Judge Orders Nikon to Hold 'Comfort Women' Photo Exhibit
A month after camera company
Nikon Corp. cancelled a photo exhibit on wartime Korean "comfort women,"
a judge has ordered the exhibit to open Tuesday as originally planned.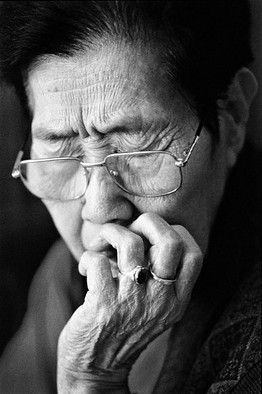 Ahn Se-hong
Kim Sun-ok was taken to China as a "comfort woman" by the Japanese military in 1942 at the age of 21.
Nikon has appealed the Tokyo District Court decision, but is preparing for the prospect that it won't get injunctive relief before the scheduled opening at 10:30 a.m.
The South Korean photographer who assembled the exhibit started taking the 38 photographs at 3 p.m. Monday afternoon to the Shinjuku salon.
"We're ready to accept — we're not going to do things that would go against the court decision," Nikon spokesman Takuya Moriguchi told JRT. But he added that the company would suspend the exhibit if it received a favorable ruling any time before the show's scheduled end July 9.
The case has stirred strong emotions in both Japan and South Korea. Nikon had originally accepted earlier this year the exhibit by photographer Ahn Se-hong, titled "Layer by Layer: Korean women left behind in China who were comfort women of the Japanese military."
But the company suddenly cancelled last month after receiving a storm of protests. Mr. Ahn sued to force Nikon to hold the exhibit, and Judge Yasushi Itami ruled in his favor Friday.
In cancelling the exhibit, Nikon didn't give Mr. Ahn a reason for reversing course. Mr. Ahn's spokeswoman released a document that she said had been filed by Nikon with the court giving this explanation:
"It has become clear that this photo exhibit is part of his political activities and it is tinged with politics. As it clearly does not fit the original mission of photo exhibits at Nikon salon, Nikon decided to cancel the offer."
Mr. Moriguchi said that because the case was still under review, he would not confirm the authenticity of the document.
In his ruling Judge Itami said that that the political goal of the photos was an invalid reason for cancelling the show.
"Even if a photo exhibit is tinged with politics or has some meaning as political activities, it could coexist with the mission of development of photo culture," Judge Itami wrote.
Mr. Ahn has been taking photos of surviving comfort women over the past decade. In a video interview by the Japan Visual Journalists Association, Mr. Ahn describes the meaning of "Layer by Layer." Holding up a picture of a promotional postcard of his exhibition, he says: "You see layers of wrinkles on the old lady's face. She became a victim as a comfort woman 70 years ago. The pain she suffered then was never discontinued but has been continuing on to the present. The pain has now become a lump."
It's unclear how much protest the exhibit will draw.
One blogger commented after the court ruling: "Are judges all fools or leftists?" Another wrote: "Nikon won't be able to stay in Japan, if it holds this exhibition."
The newspaper of the Japan Communist Party,
Akahata, praised the decision on its website, saying: "Freedom of expression is protected."