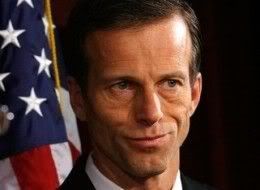 GOP Senator: We Will Unanimously Oppose Newest Health Care Compromise
Senate Republicans predicted on Wednesday that the 40 members of their caucus would unanimously oppose health care reform despite changes made by Democratic leadership to make the product more palatable to conservatives.
Sen. John Thune (R-S.D.) told the Huffington Post that he
did not think the dropping of a public option for insurance coverage from the bill would be enough
for Democrats to win even the support of moderate Republican Senators Olympia Snowe or Susan Collins, both of Maine.
(
Collapse
)
My mother would disagree. My s-dad's insurance is currently trying to knock her off since she has a different last name than him and is requiring marriage certificate, join bank statement, notarized documentation and some other stuff for her to keep her coverage. She just turned 61. I think she would like to pay in to the medicare plan. So would my s-dad he is 55 and has diabetes.