Photo of boy in public housing with an iPad prompts debate over what the poor should have
In a story that appeared on Wednesday's front page some residents of the Iberville public housing development talked about their
fears that today's scheduled implosion of the nearby Pallas Hotel will make them sick or aggravate the asthma or other respiratory problems they already have
. The 17-story hotel is being brought down to make room for the University Medical Center the state is building.
Concerns about airborne particles prompted state officials to offer hotel rooms for residents who live within a 600-foot radius of the demolition site, but the Pallas Hotel and Iberville are separated by 725 feet. So, before Wednesday at least, there was nothing special being planned for folks in the 400-apartment complex. The state's plan was reminiscent of the good old days in Louisiana when at some restaurants there'd be nothing but open air separating the non-smoking section from the smoking one.
But forget about the residents' health worries. Some readers were more worked up over a Rusty Costanza photograph that accompanied Wednesday's story. He showed an 8-year-old boy at the development busying himself with an iPad. That's a relatively expensive piece of technology. Predictably, outrage ensued.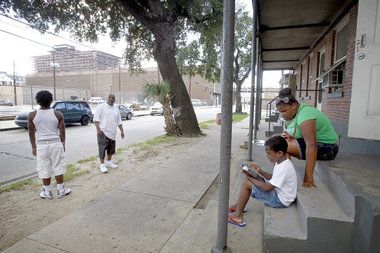 (
Collapse
)