Gangnam Style, Dissected: The Subversive Message Within South Korea's Music Video Sensation
Beneath the catchy dance beat and hilarious scenes of Seoul's poshest neighborhood, there might be a subtle message about wealth, class, and value in South Korean society.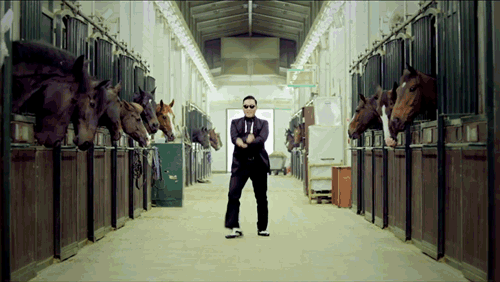 Park Jaesang is an unlikely poster boy for South Korea's youth-obsessed, highly lucrative, and famously vacuous pop music. Park, who performs as Psy (short for psycho), is a relatively ancient 34, has been busted for marijuana and for avoiding the country's mandatory military service, and is not particularly good-looking. His first album got him fined for "inappropriate content" and the second was banned. He's mainstream in the way that South Korea's monolithically corporate media demands of its stars, who typically appear regularly on TV variety and even game shows, but as a harlequin, a performer known for his parodies, outrageous costumes, and jokey concerts. Still, there's a long history of fools and court jesters as society's most cutting social critics, and he might be one of them.
Now, Park has succeeded where the K-Pop entertainment-industrial-complex and its superstars have failed so many times before: he's made it in America. The opening track on his sixth album, "Gangnam Style", has earned 49 million hits on YouTube since its mid-July release, but the viral spread was just the start.
The American rapper T-Pain was retweeted 2,400 times when he wrote "Words cannot even describe how amazing this video is." Pop stars expressed admiration. Billboard is extolling his commercial viability; Justin Bieber's manager is allegedly interested. The Wall Street Journal posted "5 Must-See" response videos. On Monday, a worker at L.A.'s Dodger stadium noticed Park in the stands and played "Gangnam Style" over the stadium P.A. system as excited baseball fans spontaneously reproduced Park's distinct dance in the video. "I have to admit I've watched it about 15 times," said a CNN anchor. "Of course, no one here in the U.S. has any idea what Psy is rapping about."
(
Collapse
)