MAY 1 - "the real Labor Day" - ironically began in Chicago, USA, during the fight for the 8 hour day in 1886. It went on to become the national state holiday in places like the USSR, Cuba, and has been unofficially celebrated in capitalist European countries.

The US govt., afraid of May Day, officially calls MAY 1 "Law Day." Not even kidding. LoL.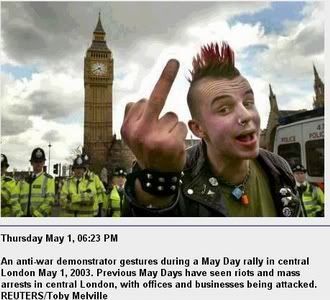 http://news.bbc.co.uk/2/hi/europe/8028237.stm

Workers march in May Day rallies

Labour unions in dozens of countries around the world are using traditional May Day marches to protest over the handling of the global economic crisis.

Some 300 rallies are planned across France, which has already seen strikes from university academics, hospital staff and fishermen among others.

Germany is braced for further violence after youths in Berlin clashed with riot police in the early hours.

Marches have been held in several Asian nations, including Cambodia and Japan.



Bottles and stones

This year's traditional Labour Day in France comes against a backdrop of mounting social tension, the BBC's Paris correspondent Emma Jane Kirby reports.

There is a growing perception that little has been done to protect the ordinary person's job and wages while executives from banks bailed out by the government have enjoyed generous pay-offs and bonuses, she says.

The country's eight main unions have urged people to come out and protest in their third such day of action this year.

Violence erupted in Berlin overnight when some 200 protesters began chanting anti-capitalism slogans after a street party ended in a district of the Germany capital.

They threw bottles and stones at the police, passing cars and trams and set several rubbish bins alight, police said.

Twenty-nine police were injured, and at least 12 people were arrested.

Violence has been a feature of past May Days in Germany. Some 5,000 police are set to be deployed in Berlin.

Workers in Cambodia, the Philippines, Japan, Taiwan and Hong Kong have been marching to mark May Day.

Elsewhere in Europe, large demonstrations are being planned in Spain, Greece and Turkey.