(See THIS
ontd_political post for the history of May 1 and why the US government calls it "Law Day.")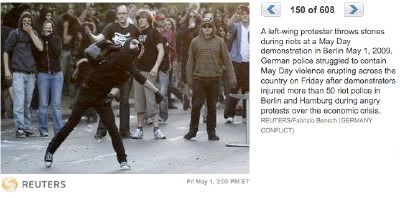 May Day protests intensify in Europe

By Peggy Hollinger and Esther Bintliff in Paris and Chris Bryant in Berlin

Published: May 1 2009 11:46 | Last updated: May 1 2009 19:34

Traditional May Day demonstrations turned violent in several countries on Friday as workers took to the streets around Europe to voice their anger over the failure of governments to halt rising unemployment and other hardships due to the global economic crisis.

Police clashed with demonstrators in Turkey, Greece and Germany, using tear gas to repel protestors throwing rocks through shop windows and in some cases molotov cocktails. However, the violence in these countries appears to have been sparked by fringe elements hijacking otherwise peaceful protests.


Source for above: http://www.ft.com/cms/s/0/2f852eec-363d-11de-af40-00144feabdc0.html


Europeans rally on May Day amid economic worries

By JENNY BARCHFIELD – 4 hours ago

PARIS (AP) — Hundreds of thousands of European workers feeling the pinch of the economic crisis rallied at May Day protests Friday from Moscow to Berlin to Istanbul.

Violence and clashes between police and angry protesters disrupted some events, including in Greece, Germany and Turkey. [...] In Paris, fractious French labor unions came together for the first time in decades to stage a joint march that ended at the Place de la Bastille.

Source.




Also: "European Riot Police Work Overtime as Unions, Anarchists link arms for May Day." (Times UK)

More May Day 2009 articles HERE.