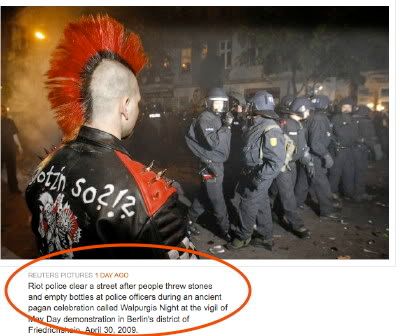 May Day turns violent in Europe

Published: 4:41AM Saturday May 02, 2009
Source: Reuters

May Day protesters clashed with riot police in Germany, Turkey and Greece while thousands angry at the governments' responses to the global financial crisis took to the streets in France and Spain.

Rising unemployment across Europe and beyond has added intensity to May Day marches as last year's market crash and banking meltdown roll into the real economy.

There were fierce clashes in Berlin on Friday evening and protests in Istanbul swiftly turned violent. Greek police clashed with anarchists. Demonstrations in France and Spain appeared largely peaceful.



In the German capital, left-wing militants pelted riot police with stones, bottles and firecrackers in the most severe May Day violence to hit the city in four years.

The attacks by about 400 militants on police accompanying a protest of about 5,000 leftists in the central district of Kreuzberg, a traditional hotbed of anarchist violence on Labour Day, was unusually fierce and began before darkness fell.

"There are people out in the streets protesting peacefully against the economic crisis and there is nothing wrong with that," said police spokesman Frank Miller. "But when people burn cars and trash containers and commit other criminal acts - that has nothing to do with political protests."

One group of protesters in central Berlin pelted the Finance Ministry building with brightly coloured paint bombs.
Advertisement

Earlier, there were clashes in Hamburg and outbreaks of violence in Ulm, Dortmund, Mainz and Verden.

In the southern city of Ulm, left-wing militants threw bottles and stones at a march of about 1,000 neo-Nazis after police were unable to keep them apart.

Ulm officials said 29 riot police were injured, one seriously, and 21 demonstrators were hurt.

Turkish riot police fired water cannon and tear gas, firing shots and pepper spray to disperse masked protesters. Young men hurled stones and Molotov cocktails, smashing bank and shop windows in side streets.

An Istanbul police spokesman said 68 demonstrators were detained and 11 police wounded. Leftists and Kurdish separatists regularly clash with police at demonstrations in Turkey and the May Day protest last year also turned violent.

Turkey's government had declared May Day, traditionally marked by rallies by labour unions, a public holiday this year under pressure from the unions.

"Those who are here are unemployed and need work," said Mehmet Guleryuz, a film director. "These are students who cannot pay tuition fees. Things are bad everywhere but it hits Turkey hard."

Almost one in three young people in Turkey is without a job and the government fears social unrest and increased ethnic tension because of the downturn. Labour unions, traditionally weak, have become increasingly vocal.

French marches

French unions organised nearly 300 marches against President Nicolas Sarkozy's social policies and crisis management, with the opposition Socialists calling on members to join the protests for the first time since 2002.

They said turnout at regional protests was lower than on March 19 when up to 3 million attended the largest demonstrations since Sarkozy's election in 2007.

In a sign of how far disillusion had spread, even staff in management positions joined the marches. The number of jobseekers under 25 increased 36 percent year-on-year in March.

"It is absolutely not in our tradition to protest on May 1, but given the economic context in France and crisis we decided to join in," said Carole Couvert, a leader of the CFE-CGC union for executives.

Spanish unions held about 70 demonstrations and threatened strikes if the Socialist government followed demands from business groups to reform labour laws.

Greek police said they fired tear gas in a clash with 300 people at Athens Polytechnic.

Elsewhere in Athens, nearly 6,000 protesters, mostly members of a communist trade union, gathered under the watchful eyes of 4,000 police. Many were angry at bank bailouts.

"We won't pay for their crisis," read banners from the country's main trade union GSEE.




Ironically, May Day coincides with pagan "Maypole" celebrations, as well. "May Day" started in Chicago, 1886, as a protest for the 8 hour day in America.

Complete coverage + photos of worldwide May Day protests are HERE.