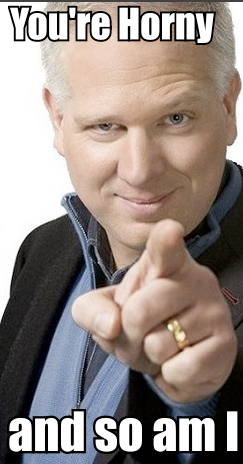 From Beck's book The Real America: Messages from the Heart and Heartland:


"I thought that one day, I would just wake up and realize it was just a stupid fling . . just innocent experimentation... I thought that if I admitted the love I had been hiding, society would reject me . . . .

It all started one day when I was twelve . . . That's when I found my true love . . . I had looked this person's way a few times and got that nervous feeling in my stomach – but I had been taught that this love was forbidden.

Then came the fair . . . my hand brushed this person's . . . my palms began to sweat . . . my hands began to shake . . . the Ferris wheel came to a complete stop.

I looked deeply into this person's eyes, and reached out to softly touch this person's face. I leaned in and I kissed this person."

I kissed my sister. First our lips met, seconds later our tongues. I ran my fingers through her silky hair and felt her soft skin. It was the height of passion and the moment I knew who my true love was . . . We knew we had done something so wrong, but at the same time, something so very right.


Source.

Beck wrote this to show how even if you feel something deep down, like, uhm, being gay (?) - it doesn't mean it is right to act on it. Or something like that. Glenn Beck also likes Ayn Rand.