Greeks free nun-dressed Britons
Seventeen British men arrested for wearing nuns' habits and accused of offensive behaviour have been freed by a court on the Greek island of Crete.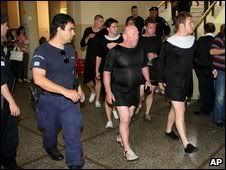 The prosecutors dropped the charges against them after no one showed up to testify that they had been upset by the tourists' conduct.

The men, who were also wearing women's lingerie, spent a night in police cells in Crete wearing their outfits.

They appeared in court on Monday in the clothes they had on when arrested.

They were apprehended in the early hours of Sunday morning and held for "scandal and misrepresentation of a costume or uniform".

The male tourists, aged between 18 and 65, were in the seaside holiday town of Malia, and appeared in court in Iraklio.

The British Embassy in Athens confirmed that all 17 had been released.

The BBC's Malcolm Brabant said the men, all from the Bristol area, went out dressed in habits and saucy lingerie, lifting up their skirts to reveal bottoms and G-strings.

For the past two or three years, Malia has become synonymous with Britons behaving badly and it has been awarded the dubious "party central" crown previously held by rowdy resorts such as Faliraki in Rhodes, and Kavos in Corfu, our correspondent added.

Heh, you can get arrested in Crete for causing "scandal?" This tickles me since I'm used to the old school use of "scandal" from religious life, and that's apparently how it's interpreted in Crete.

In sum: Mother Angelica would be pissed.


source