I got this story from
evilgmbethy.

California thus far: First, Miss California voiced her opposition to gay marriage on national TV. Then the LA Times reported that the "Governor plans to completely eliminate welfare for families." Next , Paul Krugman wrote a column where he called California a "state of paralysis" and hoped it would not be the model for America's economic recovery. Yesterday the California Supreme Court upheld a ban on gay marriages, vindicating Miss California.

Now comes reports that Schwarzenegger is looking to axe the state's Office of HIV/AIDs to save money.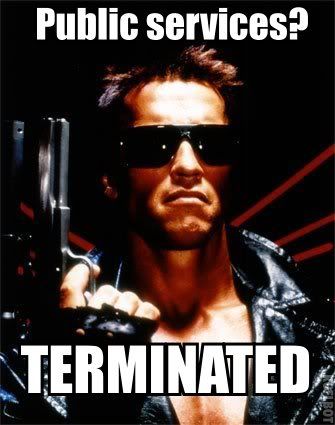 Gov. Schwarzenegger Apparently To Recommend Effectively Closing California State Office Of AIDS

by: Autumn Sandeen
Sun May 24, 2009 at 18:30:00 PM EDT

Gov. Schwarzenegger and the California Legislature are coming to grips with a $21 billion-with-a-B budget deficit. Since Californians soundly rejected initiatives in a special election last week that would have raised taxes and redirected funds, draconian measures are being proposed for closing the budget deficit.


Source.



This is from the San Francisco Chronicle:


On Tuesday, the governor's finance officials released the following details on how the governor would cut $5.5 billion through June 2010:

-- $750 million from the University of California and California State University systems, bringing the total reduction over two fiscal years to nearly $2 billion.

-- $10.3 million - Eliminate all state general fund spending for UC Hastings College of Law.

-- $173 million - Eliminate new Cal Grants.

-- $70 million - Eliminate general fund support for state parks, potentially closing 80 percent of them.

-- $247.8 million - Eliminate the Healthy Families program, which provides health care to nearly 1 million poor children.

-- $1.3 billion - Eliminate the CalWorks program, which primarily helps unemployed single mothers find jobs.

-- $809 million - Release nonviolent, non-serious, non-sex offenders one year early, and reduce the Corrections Department's contract work, rehabilitation and education programs.

Some proposed cuts, such as a $55.5 million reduction in the AIDS Drug Assistance Program and other state Office of AIDS programs, would be life-threatening, Courtney Mulhern-Pearson, policy and legislative associate for San Francisco AIDS Foundation, said.

"We were expecting cuts, but this is much, much worse than what we were expecting," said Mulhern-Pearson, adding that about 35,000 low-income Californians with AIDS rely on the drug assistance program.

Schwarzenegger's plan would force AIDS patients to bear more of the cost for medication while reducing or eliminating HIV/AIDS programs such as counseling, monitoring and educational services.


The following is from a policy briefing, here.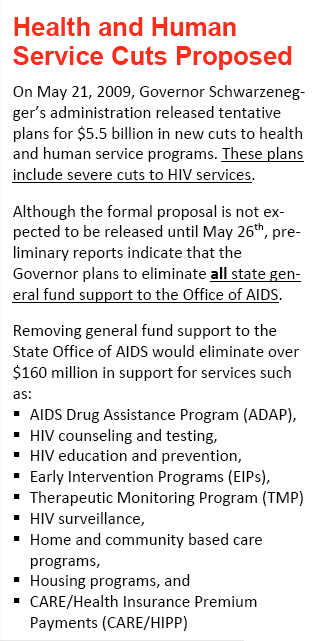 I don't know the latest details, but there is the saying, "As goes California, so goes the nation."