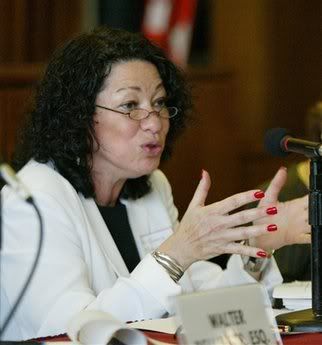 Paul Krugman gave a rundown of some of the worst reasons the GOP and conservatives have given to oppose judge Sotomayor.




1. The pronunciation of her name is "unnatural."

2. Sotomayor's fondness for traditional Latino foods like rice, beans, and pork will cause her to make bad judicial decisions.

3. Sotomayor does not have enough money in her savings (or retirement) account.




Krugman's column about this is beneath the cut.







May 27, 2009, 6:40 pm

A note on identity politics

The attacks on Sonia Sotomayor are getting crazier by the minute. The pronunciation of her name is unnatural. Her fondness for Puerto Rican cuisine — sorry, her "claimed" fondness (you never know) — may cloud her impartiality. She doesn't have enough money in her retirement account.

But is this any crazier, when you come down to it, than the Cult of Bush that ruled much of Washington for years? It was positive, not negative (though there was plenty of that too), but it was similarly about identity politics — you were supposed to support Bush, not because of how he did his job, but because he was, drumroll, a regular guy. Remember Peggy Noonan



I was asked this week why the president seems so attractive to the heartland, to what used to be called Middle America. A big question. I found my mind going to this word: normal.

Mr. Bush is the triumph of the seemingly average American man. He's normal. He thinks in a sort of common-sense way. He speaks the language of business and sports and politics. You know him. He's not exotic. But if there's a fire on the block, he'll run out and help. He'll help direct the rig to the right house and count the kids coming out and say, "Where's Sally?" He's responsible. He's not an intellectual.



Of course, a year and a half later there really was a fire on the block — actually a flood in New Orleans, but basically the same thing — and what he actually said was, "Brownie, you're doing a heck of a job." But I digress.

The thing that is really driving conservatives crazy, I think, is that their identity politics just isn't working like it used to. Their whole approach has been based on the belief that Americans vote as if they live in Mayberry, and fear and hate anyone who looks a bit different; now that the country just isn't like that, they've gone mad.

http://krugman.blogs.nytimes.com/2009/05/27/a-note-on-identity-politics/
Source.