LIVE POST


... on C-SPAN here [thanks
ladypolitik ]. Can be watched live @ MSNBC's website.

It's in Virginia.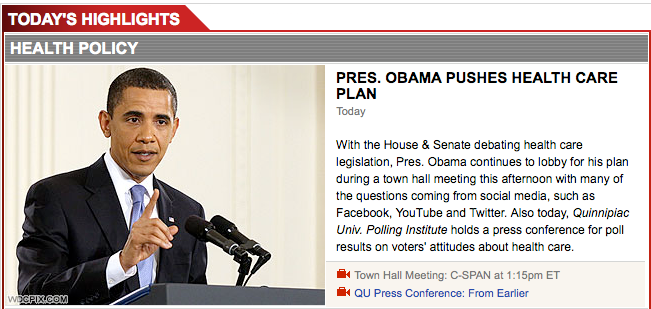 http://www.c-span.org/
Obama to hold virtual town hall on health care

President Obama is asking for your health care policy questions over Youtube, Twitter and Facebook ahead of a virtual town hall airing July 1 at 1:15 p.m. ET.

Follow and participate in the discussion now, and come back Wednesday to watch the forum live and chime in.

AT: http://www.msnbc.msn.com/id/31627689/ns/politics-white_house/



***ETA: This can be watched live, here: http://www.youtube.com/whitehouse?feature=ticker

OR

http://www.whitehouse.gov/live/

but C-SPAN live feed is working best for me.