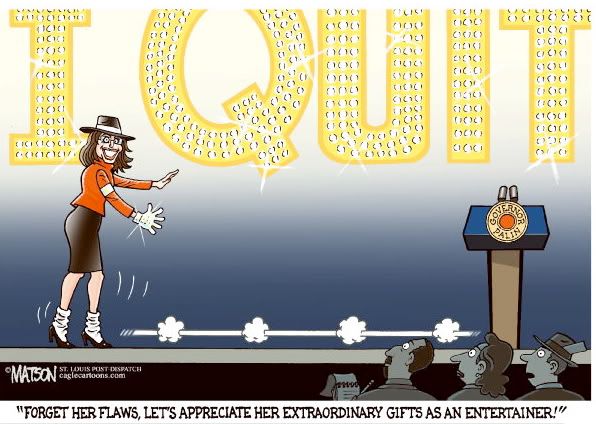 Governor "Goodhair" Rick Perry, a Bush administration holdover, has been GOVERNOR OF TEXAS FOR NINE YEARS.

In April Rick Perry said Texas could secede from the US. Sarah Palin's husband Todd was in the Alaskan Independence Party, which also wants to secede from the US.


Perry says Palin to campaign for him

By MICHAEL GRACZYK and KELLEY SHANNON Associated Press Writers
July 8, 2009, 4:30PM


CONROE, Texas — Gov. Rick Perry said Wednesday that Sarah Palin is committed to campaigning for his re-election and that he welcomes the support of the soon-to-be-former Alaska governor.

"Sarah and I were friends well back before she became a national star," Perry told The Associated Press after a luncheon speech to a Lions Club in Conroe, just north of Houston. "She'll be here."



Republican Perry also said he intends to complete the full four years if he's re-elected next year to a third term. Palin, the GOP vice presidential nominee in 2008, resigned in a surprise announcement last week before completing her first term in office.

"Each person has to decide that on their own," he said, defending her decision.

Palin associates say her decision was driven in part by a desire to help Republican candidates around the country. Some, like Perry, are eager for her help. Others, like Perry's colleagues in New Jersey and Virginia, are more wary.

But while welcoming Palin to his campaign, Perry said completing his own third term was "up to the good Lord."

"I don't try to outguess Him," the governor said. "For me, my intention is obviously to serve out the full four years — whatever distraction might be out there.

"Some people would like to distract me by saying Perry is going to Washington. I have no desire to go to Washington, D.C. I don't know how many times you have say it or how many times you have to prove it, but Washington has no allure to me."

Perry, who took over as governor for a half-term when George W. Bush won the presidency in 2000, already is the longest-serving Texas governor.

He collected 39 percent of the votes in the 2006 general election but that topped three opponents and was enough to claim his second full term.

Perry faces a likely tough primary fight from U.S. Sen. Kay Bailey Hutchison and is laying the groundwork for a Hutchison race by setting himself up as an anti-Washington candidate. She is seen as the moderate alternative to the conservative Perry and the March 2010 primary race may serve as a barometer for the national Republican Party.

"The states are where the action is," Perry told the AP. "I'm interested in making Washington and the rest of the people in the country hopefully agree with me, that Washington needs to have less influence on our collective states' lives.

"Then, if that were to happen and the 10th Amendment actually were to be respected, then the states would be competing with each other and our collective states would be substantially more influential in this union that we have. That's my goal — to stay where we are and keep Texas at the top of the heap."

The 10th Amendment to the Constitution limits the power of the federal government only to the powers granted in the Constitution and reserves other authority to the states and the people.

In his address to several hundred members of the Conroe Noon Lions Club, Perry urged the federal government to stay out of the states' business.

"We don't think government has all the answers," he said. "We don't think more government, more stimulus, is the answer.

"I don't want to get off and make a political speech here," he added, drawing laughter.

"The idea that Washington is spending money that has not been earned yet, on its face, you know that's not right," he said, reminding the crowd that he turned down hundreds of millions of dollars in federal unemployment money because of strings attached.

"Texas is going to be different, and rightfully so," he said.

Hutchison's name never surfaced during his speech Wednesday, but the governor has sought to remind voters of her years in Washington, where she's been a senator since 1993, and its recent record spending. Hutchison voted for the Bush administration's initial $700 billion bailout package for banks and Wall Street. She has since voted against the second half of that spending, and she opposed the federal economic stimulus package.

In Austin, Perry's campaign said Wednesday that it raised $4.2 million over a nine-day period at the end of June and that it has $9.3 million in available cash. That amount raised is nearly twice what Perry collected in the same period four years ago as he prepared to head into his 2006 re-election bid.

Perry's campaign said it would not release detailed information immediately on who its donors were or how much each one gave. Jim Lee, one of Perry's state finance chairmen, said 95 percent of the contributors are from Texas.

"Our team is energized by the support Governor Perry continues to receive across the state," said campaign spokesman Mark Miner.

Midyear fundraising figures are required to be filed with the Texas Ethics Commission next week.

There was no word Wednesday afternoon on the amount raised by Hutchison. She reported having nearly $8 million in campaign cash at the end of 2008, most of it transferred from her federal campaign account.

While Hutchison could raise money for her gubernatorial bid this year, Perry was banned from doing so because of the five-month legislative session and the veto period that followed it. He was able to raise money starting June 22, shortly before the reporting cutoff date at the end of the month.

The money race is an early indicator that the contest will be rough and expensive, costing tens of millions of dollars. It could be a barometer for the GOP nationally in a tug of war between social conservatives, most of whom back Perry in Texas, and more moderate Republicans who are expected to support Hutchison.
___

Kelley Shannon reported from Austin, Texas.


SOURCE