Home health care worker passes on, but kick started movement that continues to grow...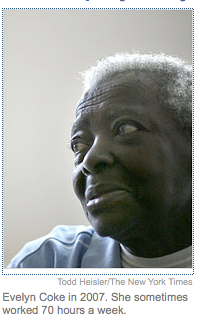 August 10, 2009

Evelyn Coke, Home Care Aide Who Fought Pay Rule, Is Dead at 74
By DOUGLAS MARTIN

Year in and year out, Evelyn Coke left her Queens house early to go to the homes of elderly, sick, often dying people. She bathed them, cooked for them, helped them dress and monitored their medications. She sometimes worked three consecutive 24-hour shifts.

She loved the work, but she earned only around $7 an hour and got no overtime pay. For years Ms. Coke, a single mother of five, quietly grumbled, and then, quite uncharacteristically, rebelled. In a case that reached the Supreme Court in 2007, Ms. Coke sued to reverse federal labor regulations that exempt home care agencies from having to pay overtime.

"I hope they try to help me because I need help bad," she said in April 2007 after listening to oral arguments. She had stopped working after being hurt in a car accident six years earlier, and by then used a wheelchair.



The court unanimously rejected her claims, saying that Congress had given the Labor Department explicit authority to include home care workers in minimum wage and overtime protection and the agency had chosen to exclude them.

"I feel robbed," Ms. Coke said in an interview with The Associated Press. "I feel glad it's come to everybody's attention; people are supposed to get paid when they work."

Ms. Coke's health deteriorated until she died of heart failure on July 9, in Manhasset, N.Y., her son Michael Findlay said last week, after returning from his mother's burial in Jamaica. He said he believed a serious bedsore had contributed to her death, and recalled the many people she had helped with bedsores. Ms. Coke was 74.

As a symbol, Evelyn Coke remains alive as both Congress and the Obama administration review regulations that carry out amendments to a 1938 law on wages. In June, 15 senators and 37 House members wrote to Hilda L. Solis, secretary of labor, urging her to eliminate the exemption for home attendants.

"Evelyn Coke, who took a case all the way to the Supreme Court, spent two decades working more than 40 hours a week caring for others," the senators wrote. "Yet, when she suffered from kidney failure, she could not afford a health care worker to take care of her."

Ms. Solis responded that she intends to "fulfill the department's mandate to protect America's workers, including home health care aides, who work demanding schedules and receive low wages."

Nearly half of home care workers — overwhelmingly low-income, female and minority — rely on food stamps or other public assistance.

The 1938 Fair Labor Standards Act required employers to pay a minimum wage and overtime pay for those who work more than 40 hours a week. In amending the law in 1974 to extend protection to domestic employees like maids and cooks, Congress specifically excluded baby sitters and "companions" for the old and infirm. They were exempted because many were thought to be friends, relatives and neighbors. The law did not mention aides employed by third parties.

When the Labor Department wrote regulations to carry out the legislation in 1975, it strongly considered extending wage protection to home aides employed by third parties. But it eventually decided to exempt them.

The Clinton administration, in its next-to-last day in office, proposed rules to give such employees overtime and minimum wage protection, but the Bush administration scrapped the proposal, saying it was too costly.

Ms. Coke's suit questioned whether Congress really intended to exempt aides employed by a third party, and whether the interpretation of the law by the Labor Department was correct. The Supreme Court ruled on the narrower ground that the department had undisputed authority to issue rules.

But much had changed since the 1970s legislation and regulation. Home care agencies are a growing industry, expected to employ nearly two million aides by 2014. The Labor Department says the only faster-growing occupation is systems and data analysts.

The agency that last employed Ms. Coke, Long Island Care at Home of Westbury, N.Y., said in court that it had followed state law on wages and overtime. It said it would sustain "tremendous and unsustainable losses" if forced to pay overtime.

New York City submitted a friend-of-court brief estimating that overtime payments to home aides would increase Medicaid costs by $250 million a year and warned of the possibility of big service cuts.

"In the worst cases, some clients, especially those with high hour needs, might no longer be able to be serviced in their homes and might have to be institutionalized," the city said in a brief filed jointly with the New York State Association of Counties.

Ms. Coke was born in Westmoreland, Jamaica, on Dec. 25, 1934. Her first jobs in Jamaica were in home care, and she stayed in the field when she came to the United States in 1970. She lived in Florida and Maryland before settling in New York City.

By 1973, she was able to send for her children. Even without overtime, her savings grew as a result of frugality and many, many hours of work. In 1980, she bought a wood-frame house in Corona, Queens, where she lived until she died.

Ms. Coke was hit and injured by a car in 2001, and saw a lawyer. When he examined her pay stubs, he recognized what she had been privately complaining about for years: her pay stubs showed she sometimes worked 70 hours a week with no overtime.

He invited her to bring a test case, which she filed in 2002. The Service Employees International Union later took it over. The union has made the broader argument that inadequate pay was fueling turnover rates among aides of from 40 to 60 percent annually.

When Ms. Coke became old enough for Medicare, she got the medical checkups she had skipped when she had no medical insurance from her job and was ineligible for Medicaid, the insurance program for poorer people.

Doctors found that her kidneys were failing. She ended up having dialysis three times a week.

Ms. Coke never married. In addition to her son Michael, she is survived by her sons Dean Roy Cox and Leroy Cox; her daughters Myrna Porter and Eunice Mahorn; her sisters Olive and Sharon Coke; and six grandchildren.

The Associated Press reported that despite her claims of unfair treatment, Ms. Coke did not become bitter. "I don't regret taking care of old people," she said.





Source @ NY Times