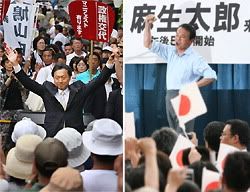 Japan opposition may score landslide win

TOKYO (Reuters) - Japan's opposition Democratic Party may be headed for a big landslide victory in the August 30 general election, knocking the conservative ruling party out of power for only the second time in 54 years, a newspaper said on Saturday.

The Democrats could win more than 320 seats of the 480 seats in parliament's lower house, although the number could change because 20-40 percent of voters did not reveal how they would vote, the Mainichi newspaper said based on a telephone poll.

Prime Minister Taro Aso's Liberal Democratic Party (LDP), hit by voter anger over scandals and long-term uncertainties about social security, could see its strength whittled to less than 100 seats from 300 going in to the election, the Mainichi said.

The LDP's junior coalition partner, the New Komeito, is also struggling to woo voters and could have trouble maintaining its 31 seats, the newspaper added.

An overwhelming victory for the opposition Democrats would end a policy deadlock in parliament, where the party and its allies already control the less powerful upper chamber and can delay legislation.

If the Democrats win 320 seats or more, it would mean they control two-thirds of the lower house and thus have the power to enact bills rejected by the upper house. The Democrats are mostly aligned on policy with their two smaller allies but have rifts over security issues.

The Democrats have pledged to put more money in the hands of consumers, hold off on raising the 5 percent sales tax for the next four years and adopt a diplomatic stance more independent of top ally the United States.

Voters are anxious for change as the LDP, which has ruled for all but 10 months since its founding in 1955, grapples with new challenges such as how to care for a fast-aging population. Aso's two predecessors both stepped down with low approval ratings after just a year in office.

But some analysts worry about the novice Democrats' ability to govern as the economy shakes off a recession and say their big spending plans could add to Japan's already sky-high public debt and push up long-term interest rates.

(Reporting by Chisa Fujioka; Editing by Alex Richardson)


This article is about a week old, but I haven't seen any other posts around here about this topic. Is anyone else here following the election in Japan? This is a big freaking deal, obviously. But is it really going to create change in Japanese politics? Or is it going to be a repeat of what ended up happening in the 90s?