I made a previous post discussing the salary discrepancy between male and female writers in television, this article discusses how few auteurs there are in TV like Aaron Sorkin or JJ Abrams that are women or people of color.

For our final class of our EW University course on TV Auteurs, Prof. Jennifer Armstrong is back to address the lack of diversity in our list, and in the TV industry as a whole.

Aaron Sorkin, Aaron Spelling, Joss Whedon, J.J. Abrams: All great auteurs, with distinct voices and visions, who left indelible marks on television. All genuinely brilliant in their own ways. All deserving of auteur status.

And, of course, all white men.

When we assembled our list of TV visionaries to discuss in this EW U course, there was no arguing with the names we chose. We could've added a few more –- a David E. Kelley or a Seth MacFarlane or a Chuck Lorre -– but, guess what! Those are still more white men. Distinctive talents, sure. But when it comes to offering a broad range of perspectives, television still lags behind, you know, real life. (Movies could use a dose of perspective, too, by the way.)

What makes this disconnect even more shocking is that these days, strong leading ladies are THE thing, especially on cable. It seems all you need to do to make a hit is plunk a female star of a certain age who isn't getting the juiciest parts these days (hi, Kyra Sedgwick!) or ever (Jada Pinkett Smith) into a sassy character who solves crimes/saves lives each week; or, on pay cable, give her a flawed character who screws up lives while baiting Emmy voters (see: Edie Falco). And yet a large number of TV's most commanding female characters are being created and shaped by … men. Pinkett Smith's Hawthorne comes from John Masius; Sedgwick's The Closer comes from James Duff. They're part of a long tradition: Sex and the City sprung from the mind of Darren Star (who later brought us Cashmere Mafia), Desperate Housewives from Marc Cherry's fertile imagination.

There are, certainly, a few up and coming female executive producers these days: Rebecca Sinclair (an alum of Buffy the Vampire Slayer and Gilmore Girls), who turned The CW's 90210 remake around; Stephanie Savage, who's given both The O.C. and Gossip Girl bite (even though she takes second billing to the more auteur-ish Josh Schwartz); The L Word's Ilene Chaiken; and Weeds' Jenji Kohan. Tina Fey's one of the few female voices on the Big Four — and she's clearly one of the most unique (not to mention critically drooled-over). But none of those ladies has gotten the chance to prove she's more than a one-hit wonder. The only woman who could come close to entering the all-boys auteurs' club is Grey's Anatomy's Shonda Rhimes (pictured above) — who, thanks to Private Practice, is the only woman and the only person of color with more than one show on network television right now. Her vision is still too new and untested – Grey's is a surefire and distinctive hit, but Practice is far wobblier — to achieve auteur status. However, she could become a Sorkin or a Kelley over time.

Rhimes deserves even more credit for proving color-blind casting works, though the outlook remains bleak for minority main characters, and perhaps even bleaker for showrunners. Tyler Perry has found the same stunning success on the small screen (with TBS' House of Payne and Meet the Browns) as he has in film, though he'll need a few more hits before he's a true auteur (and his film career will likely continue to outshine his TV work). Silvio Horta's one of very few Latino voices outside of Univision and Telemundo — though, of course, he's best known for developing a telenovela into ABC's Ugly Betty (yet another female-led show with a male showrunner, incidentally). Larry Wilmore won accolades (and an Emmy) for The Bernie Mac Show, but he's now taken to more freelance work — appearing on The Daily Show, writing for/appearing on The Office, and authoring books. And in perhaps the ultimate statement on the fate of female and minority would-be auteurs, Mara Brock Akil — who created the long-running UPN/CW sitcoms Girlfriends and The Game, some of the last vestiges of African-American-targeted programming — has joined the writing staff of ABC's Cougar Town (created by Scrubs' Bill Lawrence) to make the jokes on the Courteney Cox vehicle more organically female.

Though I salute Lawrence for hiring her, there's another way to have more organic voices: Networks giving women and minorities the chance to create characters in their own image. Just a thought.

Source



What really killed me though, was the clueless comments.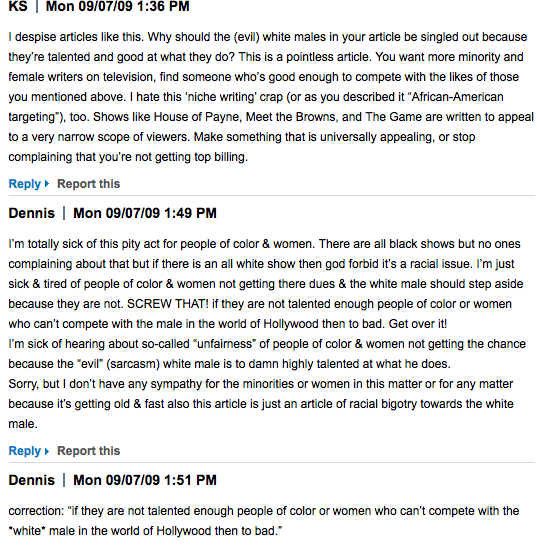 I'm dying laughing.