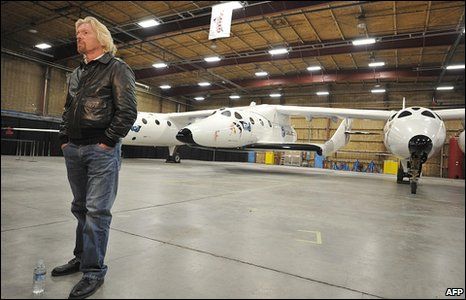 Roll-out for Richard Branson's spaceliner

Sir Richard Branson is unveiling the rocket plane he will use to take fare-paying passengers into space.

SpaceShipTwo is being presented to the world in Mojave, California.

The vehicle will undergo testing over the next 18 months before being allowed to take ticketed individuals on short-hop trips just above the atmosphere.

Sir Richard, who heads the Virgin Group, intends to run the first flights out of New Mexico before extending operations around the globe.

Built from lightweight carbon composite materials and powered by a hybrid rocket motor, SS2 is based on the X-Prize-winning SpaceShipOne concept - a rocket plane that is lifted initially by a carrier vehicle before blasting skywards.

"We want this programme to be a whole new beginning in a commercial era of space travel," Sir Richard told reporters before the official unveiling.

Full video at the link.

http://news.bbc.co.uk/2/hi/science/nature/8400353.stm

The new Spaceport in New Mexico US

http://news.bbc.co.uk/2/hi/science/nature/8111243.stm

Update ! Now with much cooler video...