YOU KNOW YOU WANT THIS HBIC TO BE THE MAYOR OF THE FOURTH LARGEST CITY IN THE COUNTRY!!!!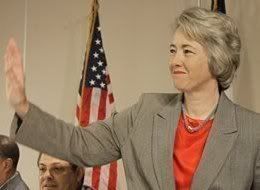 Gay Houston Mayor Candidate Annise Parker Ahead In Polls

(AP) HOUSTON -- Houston's openly gay city controller has pulled ahead in the race to be mayor of the nation's fourth largest city, just two days before a runoff election, according to a new poll.

It's believed if Annise Parker wins Saturday's runoff, it would make Houston the nation's largest city with an openly gay mayor.

Parker leads former city attorney Gene Locke 49 percent to 36 percent, according to a poll released Thursday by Rice University in Houston.

Parker has never made her sexual orientation a secret or a focal point during her six years on the City Council and the last six years as controller.

But it took a more prominent role in the mayor's race in the weeks leading up to the runoff as anti-gay activists and conservative religious groups have endorsed Locke and sent out mailers condemning Parker's "homosexual behavior."

Locke has been trying to distance himself from anti-gay attacks while courting conservative voters who could tip the race in his favor.

Rice political science professor Robert Stein, who oversaw the poll, said the attention on Parker's sexual orientation has probably hurt Locke more than her.

"It denied Locke an opportunity to win over traditional white liberal Democrats," Stein said.

Adam Harris, Parker's campaign manager, said the city controller was going to keep working for votes until the runoff.

"The only poll that matters is on Saturday and we are not counting on (Thursday's) poll to get us over the finish line," Harris said in a statement.

A telephone call to Locke's campaign was not immediately returned Thursday.

Previous polls had shown the race to be close, but Stein said Parker opened up a double-digit lead because her message of fiscal responsibility has helped her gain support among a variety of voting groups: white Republicans, African-Americans, Hispanics and independents.

Both Locke and Parker are Democrats in the nonpartisan race. Houston is a predominantly Democratic city and is about 25 percent black and one-third Hispanic. It has about 60,000 residents who identify as gay or lesbian.

The poll, commissioned by television station KHOU and radio station KUHF, is based on telephone interviews earlier this week with 442 registered voters in Houston. It has an error rate of plus or minus 4.7 percent.

Stein predicts Parker will win by 7 percent to 8 percent.

"If Locke wins this race on Saturday I'll be surprised," he said.

The winner will serve a two-year term.

Locke and Parker were the top two candidates in a field of four during the Nov. 3 election. The runoff is needed because neither candidate garnered at least 50 percent of the vote.

Locke would become the city's second black mayor if elected. He attracted endorsements and financial backing from business leaders, cashing in on his three-year tenure in the 1990s as city attorney.


HOUSTON ONTD_P'ERS VOTE TOMORROW!!!!!!!