... THE COMEDY PRACTICALLY WRITES ITSELF:




Above: The traditional pose of the North American Douchebag, modeled here by Republican National Committee Chair Michael Steele and an intern.

Below: A pack of North American Douchebags, used here as a control group for the purposes of scientific comparison.




Since Steele obviously will never be able to cultivate the Gotti hair, there really is only one route left to him, to fully embrace his inner douchebag: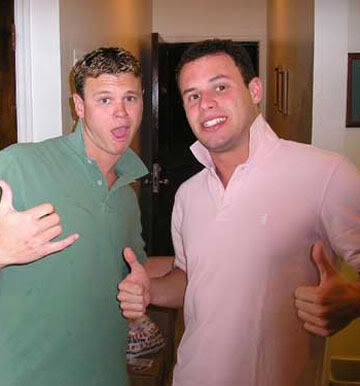 AAAWWW YYYEEEAAAHHH POPPED COLLARS

... And for those who are wondering, "Who are the douchebags among us?"

This PSA should set you all straight, JUST LIKE I SET YOUR MOM STRAIGHT WITH MY DICK, AMIRITE???



You laugh, but they're an even larger splinter faction of the Republican Party than the teabaggers (sorry,
bluetooth16, but you know it's true).