PARKER WINS!!!!

FINAL:
Mayor In: 100%
Gene Locke 73,257 47.2%
Annise Parker 81,958 52.8%




The Live Blog
http://blogs.chron.com/houstonpolitics/2009/12/follow_todays_houston_mayoral.html
http://blogs.chron.com/schoolzone/
http://www.chron.com/news/photogallery/Election_2009.html

The lead widens
The second round of election day results are in, an City Controller Annise Parker has so far maintained a 10-point advantage on election day, although a spokeswoman for Gene Locke has said the precincts being counted are in areas that play to Parker's strengths.

As we said in the previous post, it's best not to read too much into these results not enough votes have been counted.

With 256 of 738 precincts reporting in Harris County and early and absentee voting totals from Harris and Montgomery counties, Parker leads former City Attorney Gene Locke by about four points with 51.5 percent to his 48.5 percent. About 3,000 votes separate them out of more than 103,000.

Other combined stats for city of Houston races:

-District A: Brenda Stardig 55.6 percent, Lane Lewis 44.4 percent
-District F: Al Hoang 57.1 percent, Mike Laster 42.9 percent
-At-Large Position 1: Stephen Costello 50.6 percent, Karen Derr 49.4 percent
-At-Large Position 2: Sue Lovell 53.9 percent, Andrew Burks 46.1 percent
-At-Large Position 5: Jolanda Jones 53.6 percent, Jack Christie 46.4 percent


THIS FIERCE HBIC IS ABOUT TO BECOME MAYOR OF HOUSTON!!!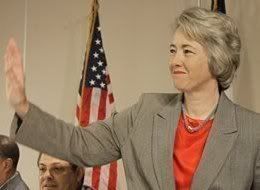 Considering the news that the Religious Right started to attack her the movement to support Parker grew. I think we can say that while it might be earlier...I think we will have a Gay Mayor in the fourth largest city in the United States of America. Houston is about to break another barrier against gay politicians. Harvey Milk, I hope you are proud.





Y'all have my permission to spam my post with celebratory and gay porn gifs. Let the party begin!!