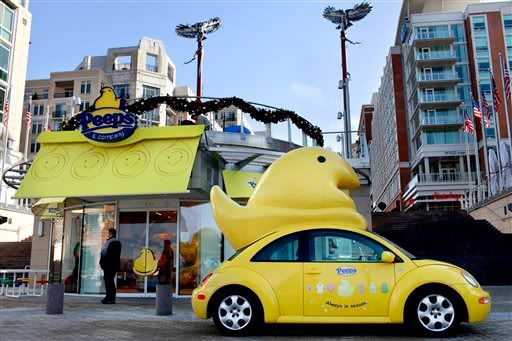 A monument to the marshmallow opens

OXON HILL, Md. (AP) - It's almost Christmas, but one company wants its fans thinking about chicks and bunnies year-round.

Just Born, maker of the chick- and bunny-shaped marshmallow Easter favorites called Peeps, is officially opening the first store devoted to them on Thursday. The shop, in a mall near Washington, D.C., sells 850 different Peeps products, including plush toys, china and even a hand-blown glass Peep.

"Our fans have asked us for years, 'What about a store?'" said Kathy Bassininski, who oversaw the creation of Peeps & Company stores for Just Born, based in Bethlehem, Pa.


(

Peep ShowCollapse

)



Source

I have to say, I hate Peeps, but I love Peeps jousting. Also if you click the source link, there's an image gallery showing off some of the store's wares.