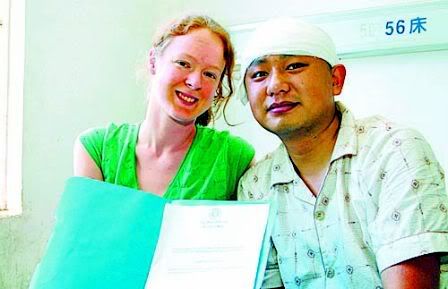 Pictured: Julie Harms [朱莉] and Liu Shiliang [劉士亮], had originally planned to be married in May of last year. (Photo gekked from Ming Pao, who found it online)

American citizen and graduate of Harvard University, Julie Harms, 30, to-date continued to petition to the officials of Beijing, the case of her Chinese fiancé, who was sentenced to 11 months of jail time for a conviction of trespassing.

Julie Harms had met Liu Shiliang at a post office, a decade ago, while she was traveling in China and majoring in East Asian studies. They became engaged in 2007, but their wedding was delayed by legal troubles later that year.

Liu's family had been in conflict with one of their neighbours in his home village within the Anhui [安徽] province. On May 14th, 2007, the neighbour had beaten Liu's niece so that her whole body was covered with blood. According to Ming Pao, Liu had rushed home to join the feud...in the December of the same year, the neighbour was sentenced to five years and a half of prison time. Then in March of 2007, the Mainland police placed a warrant for Liu online, for the crime of trespassing, and after surrendering, Liu was sentenced in November a prison term of ten months.

The Associated Press article wrote that Liu was home to visit family, and his family wondered if Liu's arrival was mistaken as an attempt at revenge. Note that the charge was only trespassing, and the head of the Licai village, Liu Jiali (not related), said, from Anhuin by phone, that Liu did not trespass. The neighbour had a cousin in the local police.

Harms contested the charge of trespassing, she said that before the trial, she had been told by the officials that the outcome had already been arranged. At first she thought the resolution would be simple, but in the many times she's been at the police station or the court of Wuhe County [五河縣(trad) 五河县(simp)], she found that the leadership was very inaccessible. "領導們通常都『在開會』,沒人願意告訴我他們的去向" ("They were always 'in meetings', and no one was willing to tell me their whereabouts") (- 劉洪慶, Ming Pao)

For centuries, Chinese citizens have took their grievances over local corruption or neglect to Beijing, first to the Emperor and now the ruling communist party, some staying for months, camping under bridges when they could not afford accommodation.



Julie Harms and the line-up for petitions. (Photo gekked from Ming Pao, who found it online)

The lone foreigner in the line ups, Harms stood out with her light coloured skin and hair, drawing attention from both fellow petitioners and even curious members of the passing police. When Harms finally delivered a letter to Zhongnanhai [中南海], the complex of buildings adjacent to the Forbidden City, that served as the headquarters for the Communist Party leadership, a guard suggested that she report her case to the petition's office, to the Supreme Court, but Harms patiently explained that she had been there.
"They see this white face and think I have some magic powers, when I can't even resolve my boyfriend's case successfully," said Harms. She made a sour face. "I haven't really heard of the whole happy ending." (- Cara Anna, AP)

Some Chinese officials preferred to deal with complaints by deflecting them rather than addressing them. During the 2007 scandal of "Shanxi Black Brick Kiln incident" [山西黑砖窑案], where peasants were held prisoners and forced to labour for a Brick Kiln, where they weren't paid, were beaten and sometimes murdered, I remember an article in Ming Pao that ended with the reporters attempting to interview the local police station, but the gates were locked and the officers could be seen playing poker inside. Parents who had been petitioning the station to deal with the kidnapping of their sons, reported similar dismissal.

Some petitioners in Beijing were grabbed off the street and sent home, some were held in detention, the 'black jails', where people were beaten and sometimes raped. The situation of the 'black jails' were ignored until the Chinese citizenry, especially through the Internet, rose in outrage at the rape of 21-year-old student who had traveled to Beijing to petition about being ridiculed by teachers and classmates. The 21-year was held, she was raped by a security guard, and when 70 other petitioners broke out, they reported the incident, and she bravely came forward to press the case. Most abhorrently, I remember the article in Ming Pao a few months ago, where the guard admitted to the rape, but in his defense, 'it was no great grievance', in the same article, the victim expressed that her life is ruined now. In a trial that did not mention the 'black jails, the jail guard, Xu Jian, 26, was sentenced to pay 2,300 yuan ($335) in compensation to the victim. (Activist: China black jail guard convicted of rape - AP, 2009 Dec 10)

As a white foreigner, Harms had largely been spared the harsh treatment dealt to Chinese petitioners, but like them, she was rarely allowed pass security. When Harms had waited outside the American embassy during President Obama's visit to China, hoping to hand him a letter about legal reforms, she was arrested and detained at a local police station for hours.

Julie Harms had been in Beijing for over a year, she plans to spend the Christmas holidays with her family in United States, and then return to Beijing to make her case again. 「每月一次登記,回京後正好是下個月『一次』登記時間」 ("Petition is registered once a month, the return to Bejing would be the right time for the month's 'once' petition"). - Ming Pao's 劉洪慶 reporting from Beijing.

Sources:
Associated Press - American woman becomes petitioner in China by Cara Anna (Dec 1st, 2009)
Editorial Note: reports the sentence as 11 months

Ming Pao [明報] - 哈佛女孩踏遍北京申訴部門 -- 洋秋菊上訪救情郎 (Harvard Girl Goes Through Beijing's Petition Departments - Euro 'Autumn Mums' Appeals For Her Lover) by 劉洪慶 (Dec 19th, 2009)
Editorial Note: reports the sentence as 10 months
...and, Autumn Mums is a cultural reference to 秋菊打官司 (Autumn Mums Fight The Court), where Autumn Mums appeal to the higher court because the village leader who had maimed her husband refused to compensate them.

Associated Press - Activist: China black jail guard convicted of rape (Dec 10th, 2009)
Editorial Note: reports the number of escaped prisoners as 50

Times Online - Report opens door on China's 'black jails' where citizens are beaten and raped by Jane Macartney in Bejing (November 13th, 2009 )
Editorial Note: reports the number of escaped prisoners as 70


Resource:
Yahoo Babelfish (translate articles or websites)

Crossposted at DW.