Crossroads stimulus money trail: Where did $44 million go? Ron Paul to investigate

BY GABE SEMENZA - GSEMENZA@VICAD.COM
Originally published January 1, 2010 at 10:45 p.m., updated January 2, 2010 at 10:45 a.m.

Editor's note: This is the final installment of a seven-part series that details federal stimulus funding to the Crossroads.

One private company received approval for more stimulus money than all other Crossroads agencies combined, according to multiple federal sources.

This region's biggest recipient by far won't discuss how it will spend $44 million, money that represents your tax dollars.

Questions raised by the Advocate in this story prompted U.S. Rep. Ron Paul, R-Surfside, to announce this week his office will launch a formal investigation.

The company's vice president and general counsel said corporate officers can't answer basic questions about the money: How many jobs will the $44 million create? What work will be performed? What's the rationale for the projects?

A deeper look at the company, King Fisher Marine Services Inc. in Port Lavaca, and at its Houston-based parent company, Orion Marine Group, raises another question: Why did the Texas group's top executive give money last year to an Indiana congressman? The Indiana congressman is under federal investigation for fundraising practices and earmarking big sums for out-of-state businesses.

"Too much of this goes on ... " Paul said. "This problem with King Fisher and Orion demonstrates it's almost impossible to keep up with. It's a total outrage."


NO COMMENT

King Fisher, the only private company to receive stimulus money in this region, is a heavy civil marine contractor based in Port Lavaca.

Orion Marine Group owns dredging businesses from South Texas to Florida.

King Fisher received approval for two federal stimulus awards - one for $9.7 million and one for $34.2 million, according to federal records.

Directors at King Fisher declined comment in early December and instead pointed interview requests to its Houston parent company.

"I spoke with several upper management officials with Orion Marine Group and at this time they feel no comment is warranted," Brooke Nelson, an assistant at the parent company, wrote in an e-mail dated Dec. 9.

A day later, Chris DeAlmeida, Orion's director of investor relations, sent an e-mail demanding future requests be asked of the company's vice president and general counsel, Pete Buchler.

Buchler denied by phone that King Fisher received approval for the $34.2 million award. After the Advocate sent federal records to Buchler that verified the award, he then declined for two weeks to return phone calls and e-mails.

Buchler finally responded this week, but only after the Advocate forwarded information regarding his top executive's donation to the Indiana congressman.


NEEDLE IN A HAYSTACK

Private companies that receive federal stimulus money don't have to discuss with the media how they will spend the funds, according to Freedom of Information Foundation of Texas lawyers.

"The fact that they're getting government money doesn't play into any equation," said James Hemphill, an Austin lawyer. "To be forced to disclose information to the public, they have to be a government agency - even if they're using tax dollars."

The federal government created a public Web site and database - found at www.Recovery.gov - to report how agencies and companies use stimulus dollars. King Fisher, Orion and other companies are required to submit to the database for public review quarterly information on the status of projects, the number of jobs created and more.

The federal database includes information regarding King Fisher's $9.7 million award. The company will dredge the Houston-Galveston Navigation Channel, according to federal records.

Database fields for the $34.2 million award, however, remain largely blank - except for King Fisher's name, ZIP code and award amount.

With the help of the U.S. Army Corps of Engineers, the Advocate learned the $34.2 million was awarded to Houston's Weston Solutions, an engineering and construction firm. Weston then awarded the money to King Fisher.

"Evidently, what you found is King Fisher Marine Services became a subcontractor to Weston Solutions," said Martie Cenkci of the U.S. Army Corps of Engineers. "It was not a contract award from us, and we wouldn't be tracking it."

Cenkci said the $34.2 million:

* Was awarded to pay for multiple repairs in the navigation channel in Harris and Chamber counties, as well as perform general upkeep, incremental levee raising and shore protection.

* Was awarded on Aug. 13. The total award to Weston Solutions was $82.6 million. Of that, $52.9 million is federal stimulus funds. Of the federal stimulus funds, $34.2 million goes to King Fisher.

Jeff Wormser, a senior project manager with Weston Solutions, said he can't comment about the $34.2 million.

Calls to U.S. Vice President Joe Biden's office - the office that oversees ensuring stimulus recipients report award details - went unreturned.


TRACKING EARMARKS

After failed attempts during a three-week span to garner comment from King Fisher's parent company, the Advocate then reviewed campaign contributions by employees of both companies dating back to 1990.

Most contributions did not raise red flags. Buchler, the vice president and lawyer, for example, donated $350 this year to the National Republican Trust Pac, according to the Center for Responsive Politics.

Orion's chief executive officer, James Pearson, however, donated $500 last year to Pete Visclosky For Congress, a political action committee.

Why would a South Texas businessman donate money to a legislator from the northwest corner of Indiana?

Visclosky, it turns out, is under investigation by the Office of Congressional Ethics on suspicion of trading government funding earmarks for campaign donations, according to the Wall Street Journal.

The senior member of the House Appropriations Committee once earmarked millions of Pentagon dollars a year for private companies outside his home state of Indiana, according to a Politico report.

A sliver of other findings regarding Visclosky include:

* He fought for tens of millions of dollars for dredging projects paid to Great Lakes Dredge and Dock, a company with offices outside Indiana, according to Dredging News, an industry publication.

* Last year, he, in part, secured 29 earmarks worth $45 million, only half of which was for entities in his home state, according to Taxpayers for Common Sense.

* The U.S. Justice Department is looking into several companies that received earmarks from Visclosky.

It is unclear if the justice department eyes Orion or King Fisher. Dredging companies such as Orion and King Fisher, however, are often awarded government jobs via the U.S. Army Corps of Engineers, which is considered a defense agency. The corps awarded King Fisher the $9.7 million award, for example. Visclosky is also a member of the House's defense-spending committee.

Congress appropriated in the federal stimulus package $4.6 billion for dredging projects.

While the Corps helped the Advocate locate details about King Fisher's $34.2 million award, officials cut contact once probed about the Orion executive's contribution to Visclosky.

The Advocate jointly interviewed a number of Corps managers via a teleconference call. The call ended with mention of Visclosky.

"Since the interview you proposed turned into something quite different once we were on the telephone ... I thought it best to get any additional questions you may have in writing," Cenkci, the Corps spokeswoman, said in a follow-up e-mail.

Written questions submitted by the Advocate on Dec. 22 have yet to be answered.


ORION SPEAKS

For three weeks, Buchler, Orion's vice president and general counsel, declined to answer the Advocate's questions. Those questions, which should have been included in data viewable by the public, included:

* How will you spend the $44 million?

* What's the rationale for the projects?

* How many jobs will the money create?

On Tuesday, the Advocate for the first time sent Buchler information regarding the contribution by the Orion executive to Visclosky. Within 24 hours, Buchler responded. Why decline comment for weeks, and then suddenly respond now?

"It took some time to get our thoughts together," Buchler said by phone. "We'd never been faced with this kind of situation before. We became, if you will, anxious to ensure any misconceptions - to the extent we could provide information under the restrictions we have - were cleared up."

Buchler said Orion spent great resources trying to verify if King Fisher received the $34.2 million award. Orion hired a Dallas lawyer and consultant, who contacted the Advocate on Wednesday, to help Buchler compile data and his response.

"Although we have made an exhaustive and good faith attempt to completely respond to your inquiries, we find that we will likely be unable to satisfy your expectations," Buchler wrote in a formal response.

He said that because the $9.7 million was awarded the company via so-called defense contracts by the Corps, he is bound by federal law - the Defense Federal Acquisition Regulation - from discussing certain aspects.

Buchler said he has yet to verify whether King Fisher was awarded the $34.2 million, and so he can't discuss the money.

"We remain puzzled by the information cited and strongly question the accuracy and relevance of a large portion thereof," Buchler wrote. "Specifically, you need to know that we have never before had the need or desire to track the funding sources of any U.S. Army Corps of Engineers projects in which we are involved. We certainly have seen a significant increase in the size and number of U.S. Army Corps of Engineers projects in recent months."

As for the Orion executive's campaign donation to the Indiana congressman, Buchler said Pearson joined dozens of others for a dredging association dinner hosted by Visclosky. Pearson wanted to support the release of the balance of a major congressional trust fund withheld for years, Buchler said.

"The release of these funds for waterways and channels maintained by the federal government would greatly benefit several regions of the country, including Texas," Buchler wrote. "However, it is absolutely untrue, unfair and ludicrous for anyone to suggest that this $500 donation had anything to do with the U.S. Army Corps of Engineers awarding projects to our company. Any inference to the contrary would be irresponsible."


CONGRESSMAN PAUL REACTS

Paul, the Texas District 14 congressman and former U.S. presidential candidate, requested this week a summary of questions raised in this story. After receiving the summary, he called the Advocate to learn greater details.

While Paul doesn't know for sure the root of this funding discrepancy, his office will next week launch a formal investigation, he said.

The congressman, a member of the House Financial Services Committee, campaigned early in 2009 against the stimulus package. He said, among several criticisms, this massive federal government spending package is destructive and will create further national debt, and even bigger problems.

What about problems determining whether King Fisher received approval for the $34.2 million award, and if the Orion executive's contribution to Visclosky deserves attention?

"This raises more questions than answers," Paul said. "If this was totally aboveboard, you'd think they'd be more willing to set the record straight. It's not a total surprise. I think the total system operates like this. Money comes in, deals are made, people make donations. If it's quid pro quo, it's a big deal."

What if Orion's vice president's accounting is correct? If Orion's subsidiary, King Fisher, did not receive approval for $34.2 million - as it's indicated in federal records and by the Corps - another problem looms, the congressman said.

"If they didn't get it, then who did get it? That's important because it's $34 million were talking about," Paul said.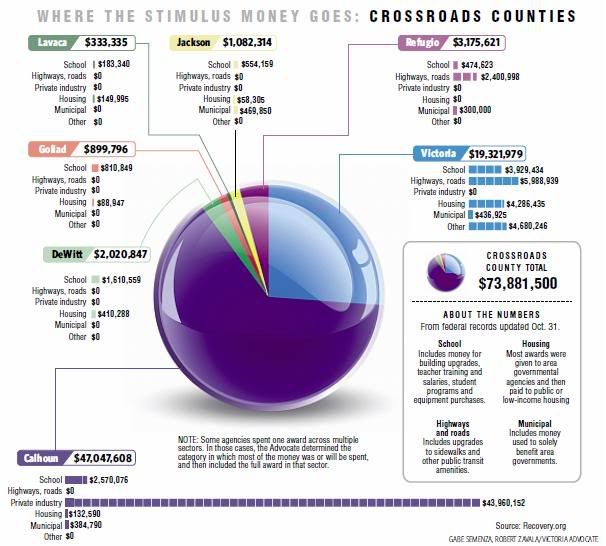 How much our region received

Crossroads' agencies received approval for $74 million in economic stimulus funds this year, an Advocate analysis of federal records shows.

The $787 billion American Reinvestment and Recovery Act, passed by Congress in February, aims to stimulate a U.S. economy reeling in the wake of recession, lawmakers say.

Many in the Crossroads fought for their sliver of the pie. The federal government approved 67 awards for 37 agencies, including two to Kingfisher Marine Services Inc., the only private company in the region to receive such money.


Now look at what a Paultard, RedXIII, is saying on the comments:


In from the ALCJ...Say "Yes We Can" Sign the petition...This is bigger than you and I know...Information was sent via ACLJ, not to be confused by the ACLU...

Dear Friend of Liberty,

I hope you join me in my firm conviction that now is the time to fight back against the out of control Federal Reserve and continued Wall Street plundering of our tax dollars.

The threat isn't hard to see -- just look all around us. Our constitutional principles and freedoms are being assaulted at every turn. More bailouts, trillion dollar "stimulus" plans, huge new debt burdens for our children, simply printing money to cover our failed policies -- I could go on and on. You and I both know that President Obama is going to keep going and going unless someone puts a stop to the madness.

But the good news is there is a way to fight back. And that fight starts today -- by "Auditing the Fed" and showing the American people just how the Fed has abused its power, debauched the dollar, and helped strangle our economy.

Because I know you are a friend in Liberty, I wanted you to be among the first people contacted by Campaign for Liberty for the vital fight against the out of control Federal Reserve.

Please read the enclosed letter from my friend and Campaign for Liberty's President, John Tate. John isn't just a friend of mine. He's also a patriot with years of experience getting things done in politics. Now he's agreed to take up the fight in a way I cannot -- by leading the fight for Liberty on the outside, while I do battle in the halls of Congress.

I trust you'll find this battle to expose the out of control Fed worth your support.

For Liberty,

Congressman Ron Paul


January 2, 2010 at 10:37 p.m.

~

We are not talkin 44 million...we are seeking the data for accounting of 13 trillion...

Right now, you and I are seeing the worst plundering of a country's wealth in the history of civilization, led by an out of control Federal Reserve.

But together you and I CAN put a stop to it all.

With your help (including submitting the petition linked below to your Congressman and Senators) today, Representative Ron Paul, Senator Jim DeMint and Campaign for Liberty are ready to fight back, by taking the battle straight to the heart of the problem – the Federal Reserve itself.

Just think about the scope of the problem for a minute: The massive, outrageous amount of dollars committed to the economic bailouts in recent months totals:

More than the socialist New Deal ... More than the entire Iraq debacle ... More than the 1980's savings and loan mess ... More than the Korean War ...

COMBINED.

When will it all end?

It's time you and I put a stop to a renegade Federal Reserve by exposing the Fed's out of control actions to the American people. And Congressman Ron Paul and Senator Jim DeMint have a bill before Congress to do just that, known as the "Audit the Fed" Bill (HR 1207 and S 604).

That's why it's vital you click here http://www.chooseliberty.org/auditfed... to submit your "Audit the Fed" petition in support of Congressman Paul's bill.

You see, Audit the Fed already has over 300 cosponsors!


January 2, 2010 at 10:44 p.m.

~

Sorry, if you think this is spam but, this is actual meat and a way to participate in what you are concerned and reporting...

Now is the time to make sure your Congressman and Senators feel the heat to support the Audit the Fed bill!

If you and I don't act today, I'm afraid this crisis will end with the economic ruin of every man, woman and child in America.

Today, nearly 13 TRILLION in taxpayer dollars in bailouts and loans has been agreed to by Congress, the Bush and Obama Treasury Departments, and the out of control Fed.

So is it really any wonder more and more folks are starting to realize the Washington, D.C. establishment is hurtling us toward complete economic disaster?

Whether it's watching a phony "stimulus" package get rammed into law or watching Congress pass a $700 BILLION bank "bailout" under threat of martial law, the American people are agitated and increasingly angry.

That means it's a perfect time to unleash the pressure of MILLIONS of outraged Americans on the out of control Fed!

So please click here to sign the petition linked below urging your Congressman and Senators to cosponsor and seek roll call votes to pass the Audit the Fed Bill!

As I know you're aware, the Federal Reserve is shrouded in secrecy. Their meetings are off-limits to the public. Their inner workings are off-limits to the public.

And just recently, the Federal Reserve told Congress "NO WAY" when asked to account for $2 TRILLION in taxpayer-backed loans!

Well, why do you think they refused?

They know coming clean with Congress and the American people on how they doled out that two TRILLION dollars would result in an anti-Fed firestorm.

So can you imagine the impact of a full-scale audit? You and I will finally be able to show the American people that the Federal Reserve System leads to:
*** Constant economic crises -- the housing crisis and the resulting chaos is just one example of an economic bubble created by centrally-planned interest rates and money manipulation;

*** The destruction of the middle class -- as fuel, food, housing, medical care and education costs soar, everyone who is NOT on the government dole is forced to make do with less as the value of their money slowly decreases;

*** Currency destruction -- history shows us that riots, violence and full-scale police states can result when people finally realize our money isn't worth the paper it's printed on and REFUSE to accept it.
And unless you and I do end the madness in Washington, D.C., we may be closer than we'd like to think to learning that history lesson firsthand -- right here in our own streets.

Ron Paul's Campaign for Liberty?

Sincerely,

John F. Tate
President

P.S. Please submit the petition urging your Congressman http://www.house.gov and Senators http://www.senate.gov to cosponsor and seek roll call votes on Rep. Ron Paul's Audit the Fed Bill TODAY!


January 2, 2010 at 10:47 p.m.
This is a major story in area. The King Fisher company is based in my county. The family that used to own the business is one of the most powerful and rich families in our area.

Victoria county is the richest county in the area. It's where my university is located and it is the 'capital' city of our region with the biggest population living within it's boundaries for a seven county area. The fact that my county, my town recieved the biggest amount of federal stimilus money...is kind of a big deal.

And of course the fact that this is an ELECTION year has absolutely NOTHING to do with why Ron Paul is investigating this. Nope no way.

I wonder how much King Fisher has in the past funded Ron Paul's campaign.

So what do you guys think of this?