U.S. expresses disappointment over Taiwan's beef ban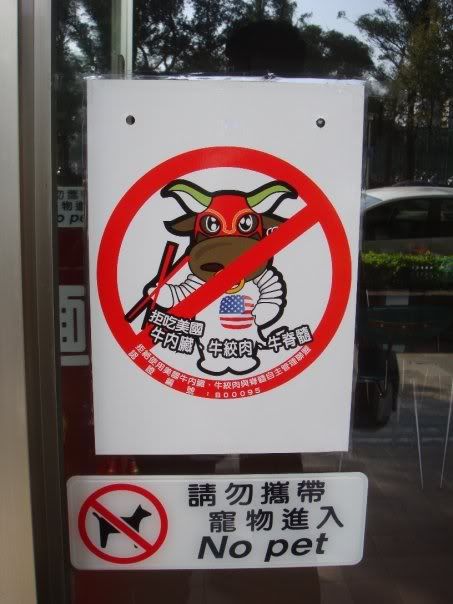 (text: Refuse to eat American beef innards, ground beef, and boned beef)

Washington -- The U.S. government expressed disappointment Tuesday at a decision by Taiwan's legislature to bar the import of specific U.S. beef products in contravention of a bilateral trade protocol signed in October.

"We're very disappointed with the Taiwan legislature's decision to ban certain cuts of U.S. beef in violation of our bilateral agreement signed just over two months ago, " said Philip Crowley, assistant secretary of the Bureau of Public Affairs at the U.S. State Department.



Crowley said, however, that Washington remains committed to further developing its broad-ranging and positive relationship with the people of Taiwan and he ruled out the possibility that the incident could affect arms sales to Taiwan.

"U.S. government policy and decisions in the security arena are based on the Taiwan Relations Act (TRA) . And as stipulated in the TRA, the United States will continue to make available to Taiwan defense articles and services needed for Taiwan's self defense, " Crowley said.

Taiwan's Legislative Yuan on Tuesday passed an amendment to the Act Governing Food Sanitation that targets beef products from countries with documented cases of bovine spongiform encephalopathy (BSE), or mad cow disease, over the past decade.

It will effectively bar U.S. ground beef, beef offal and other beef parts such as the skull, eyes and intestines from access to Taiwan's market.

The amendment came just two months after Taiwan and the United States signed a protocol to allow the entry of bone-in beef and other beef products, including ground beef and offal, which had previously been forbidden over BSE concerns.

Also Tuesday, Deputy United States Trade Representative Demetrios Marantis and Undersecretary for Farm and Foreign Agricultural Services Jim Miller issued a joint statement to express disappointment and serious concern over Taiwan's decision to "place domestic politics over science."

Maranties and Miller reiterated that the amendment's provisions "do not have a basis in science" and "constitute a unilateral violation" of the latest U.S.-Taiwan protocol.

They stressed that the protocol was negotiated on the basis of the guidelines laid out by the World Organization for Animal Health (OIE), as well as the findings of Taiwan's own risk assessment, which concluded that all U.S. beef and beef products are safe.

"This action will also undermine Taiwan's credibility as a responsible trading partner and will make it more challenging for us to conclude future agreements to expand and strengthen bilateral trade and economic ties," Maranties and Miller said.

"In light of the continuing importance of our bilateral economic relationship, we urge Taiwan to honor its commitments and to implement the beef protocol as negotiated," they added.

In the wake of the amendment, Taiwan-U.S. talks under the framework of the bilateral trade and investment framework agreement (TIFA) , which were scheduled for February in Taipei, have been postponed.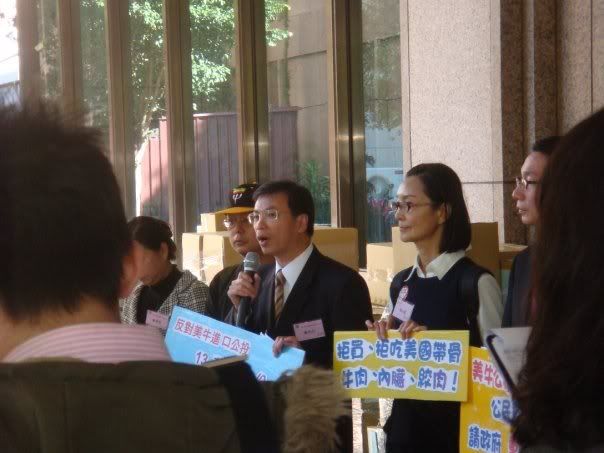 (text: "Against importation policy of American beef"
"Refuse to buy and eat American ribs, beef, innards, ground beef"; Consumer Association's press conference in front of Executive Yuan)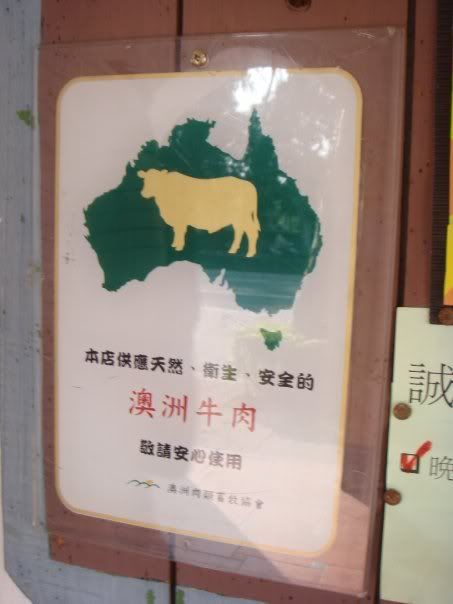 (restaurants would have this sign, which says that they serve Safe Australian Beef, and the No US Beef sign on their doors after US beef became a political issue)


Source: China Post (news), my camera (photos lol)

*

Oh man when I went to Taiwan for fieldwork in December, beef controversy was everywhere. It affected the local elections the day before we arrived where KMT lost seats and restaurants everywhere had those signs (so I took pictures). When we went to visit the Executive Yuan, there was the Consumer's Association head giving a press conference about how US beef is bad and how Taiwan should not have relaxed import regulations. A director at the Ministry of Economic Affairs also told us about the beef issue and how they're trying to work it out with the US (and Canada since we were a Canadian delegation).

And then while we were still in Canada, the Taiwanese rep to Canada (former rep to US so he's a pretty big guy in MOFA) told us how he tried very hard to get an agreement that Canada and Taiwan both were okay with (allowing certain types of beef products) but then the US wanted more, got more and essentially screwed over Canadian beef and Canada (since both are the same and should be treated the same). :S

Just some background on the beef issue from gov officials. Asia keeps having drama about US beef (see South Korean riots @_@). (lol sorry for the long commentary)