Doctor Who star Tennant begs voters to snub Cam or face miserable future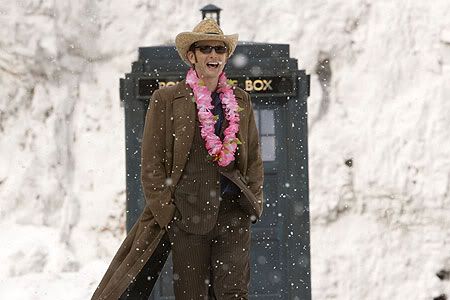 David Tennant has urged people not to vote Tory, warning that life under David Cameron would be a "terrifying prospect" for the future of Britain.

The Doctor Who star branded the Conservative leader a phoney who jumps on every bandwagon going and insists Gordon Brown is the man best placed to look after the interests of all Brits, not just a privileged few.

In an emotionally charged interview, Tennant said: "Clearly, the Labour Party is not without some issues right now and I do get frustrated. They need to sort some stuff out, but they're still a better bet than the Tories.

"I would rather have Gordon Brown than David Cameron. I would rather have a Prime Minister who is the cleverest person in the room than a Prime Minister who looks good in a suit.

"I think David Cameron is a terrifying prospect. I think he's a regional newsreader who will jump on whatever bandwagon flies past.

"I get quite panicked that people are buying his rhetoric, because it seems very manipulative."

Britain's best-loved actor Tennant is a long-term Labour supporter who appeared in a party political broadcast in 2005.

But while some voters are wavering, the stage and screen favourite made it clear he has never felt more strongly about backing Mr Brown in a bid to avoid a return to the dark days of Tory rule.

And he urged fellow actors to vote Labour. Tennant said: "It's weird that you can work in the arts - which tends to be about empathy and understanding and, hopefully, feeling some kind of sympathy for your fellow man - and vote Tory. I find that inconceivable.

"I still don't get it when you meet actors who buy the Daily Telegraph and talk about this terrible wave of immigrants. You just think, where did that come from? Have you read King Lear? Have you read Hamlet?"

The 38-year-old made his comments in the latest Doctor Who magazine as he bowed out of the show to make way for new Timelord Matt Smith.

His comments echo Doctor Who's outgoing executive producer Russell T Davies, who has also spoken of his support of Labour.

He fears people could lose the BBC as we know it because the Tories will get rid of the licence fee.

Davies, who has been living in the States, said: "I'll come back and fight them at the barricades. I feel a bit like Alan Bennett, who said his favourite things about Britain were the BBC and the NHS.

"It's going to be appalling. Shadow Culture Secretary Jeremy Hunt has absolutely attacked the licence fee and then suddenly, a few weeks ago, he back-tracked and said, 'Oh no, we won't interfere with the charter'.

"They want the votes but once they get in they are going to be absolutely vicious."

Source.

LOL. I should think that the number of people gained with Tennant's endorsement equals the number of people lost by RTD's endorsement. Reading the interblags, RTD seems almost as polarising as Joss Whedon...