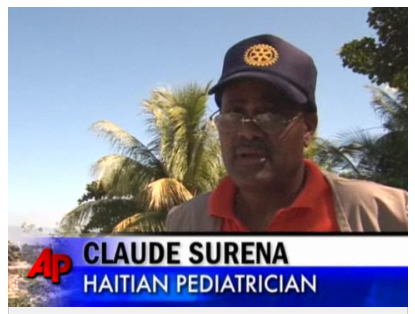 Pediatrician Dr. Claude Surena, had treated patients in his two-story hillside home for years. After the earthquake, his residence, which was near the centre of Port-au-prince, survived undamaged, and became a triage centre for over a hundred people.

The shelter provided comfort for the sick, the dying, and the homeless, some of whom sang hymns as they huddled in comfort. The doctors, Surena, along with two others, such as Florida-based gynecologist, Frantz Python, provided care as they were able to, but they were short on supplies. Eighteen patients have died, including a pregnant woman along with the baby.

"She was really suffering," Surena said. "The most difficult thing emotionally is that you know how to do it, but you don't have the materials do it."


Source:
The Canadian Press - Haitian doctor takes more than 100 patients into his home as refuge from devastation by Mike Melia (Jan 15th, 2010)

Good News Network - Haiti Doctor Takes 100 Patients Into His Home (Jan 17th, 2010)
- AP article + the video where the post image was capped from


Comment: The people in the video was so calm, they have it together and they have doctors, but not enough supplies. There was a worry expressed by western NGOs that airdrops might cause riots...but this looked like a place that could use and would use well, airdropped supplies.

ETA Update:

Dominican Today - ShelterBox delivers disaster relief to Haiti (Jan 18th, 2010)
- "Rotary Club disaster relief coordinator for Haiti, Dr. Claude Suréna, president of the Haitian Medical Association, will lead the efforts of Haiti's 16 Rotary clubs with ShelterBox to ensure that this relief will be deployed effectively to the thousands homeless in need."