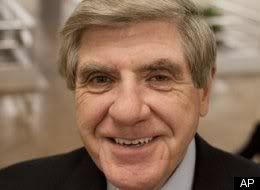 Ben Nelson To Filibuster Key Obama Labor Nominee

In a move that will further irritate his Democratic critics, Sen. Ben Nelson (D-Neb.) announced on Monday evening that he would not just oppose but also help filibuster President Barack Obama's nominee to a key labor relations agency

In a statement from his office, the Nebraska Democrat announced that he would oppose cloture for Craig Becker's appointment to the National Labor Relations Board, all but assuring that confirmation won't take place.

"Mr. Becker's previous statements strongly indicate that he would take an aggressive personal agenda to the NLRB, and that he would pursue a personal agenda there, rather than that of the Administration," said Senator Nelson. "This is of great concern, considering that the Board's main responsibility is to resolve labor disputes with an even and impartial hand. In addition, the nominee's statements fly in the face of Nebraska's Right to Work laws, which have been credited in part with our excellent business climate that has attracted employers and many good jobs to Nebraska. Considering these matters, I will oppose the upcoming cloture motion and the nomination."

Becker has been an associate general counsel for the Service Employees International Union since 1990 and was previously counsel for the AFL-CIO. His nomination to the NLRB already appeared in peril after the victory of Scott Brown in the Massachusetts Senate election. He had previously been held up in Congress by objections from Sen. John McCain (R-Ariz.) -- who worried he was too allied with unions -- before being re-nominated by Obama in January.

In that regard, Nelson's vote may not be critical -- he will likely be the 42nd Senator, not the 41st, to vote against cloture. Still, for a labor community that grew tired of the Nebraska Democrat's antics during the health care debate, the Becker vote is likely to ratchet up their anger further.

"It's a shame and a disappointment that Senator Nelson is willing to continue to leave working families without a fully staffed NLRB," said Eddie Vale, a spokesman for the AFL-CIO. "Becker is an eminently qualified nominee. Its pretty confusing and circular logic that Nelson contends he wouldn't represent the administrations agenda, when he was nominated by the administration, twice."

Nelson has been much more inclined to filibuster Obama's nominees than he was George W. Bush's. As the Huffington Post reported back in May 2009:


Indeed, Nelson voted for cloture twice on former U.N. Ambassador John Bolton and once for former EPA Administrator Stephen Johnson.

He backed the nominations of Samuel Alito and John Roberts to the Supreme Court, as well as John Ashcroft and Alberto Gonzales to the Attorney General post.

He supported cloture for the nomination of Miguel Estrada to the United States Court of Appeals for the D.C. Circuit on seven separate occasions.

He did the same three times for the nomination of then Alabama Attorney General Bill Pryor to the 11th U.S. Circuit Court of Appeals, before ultimately supporting confirmation as well.