Gallery: Haiti Emerges from the Rubble
* By Nathan Hodge Email Author
* February 11, 2010 |
* 9:02 am |
* Categories: Haiti




The Haitian government now estimates the death toll from the January 12th earthquake to be about 230,000, a number that does not include bodies buried by families. If the figure is anywhere near accurate, it puts this disaster on par with the 2004 Asian tsunami. And the immediate emergency is not over: Relief groups now warn that disease and starvation may claim many more lives.

Over the past week, I traveled to Haiti to take a firsthand look at the devastation left by the quake — and to report on the first steps toward rebuilding. The scale of the suffering would be hard to overstate: At every turn, I met Haitians whose lives had been profoundly, irreversibly changed by the disaster. Here, a girl at an improvised tent camp in Port-au-Prince, near the government's mines and energy ministry headquarters, which was completely leveled by the quake.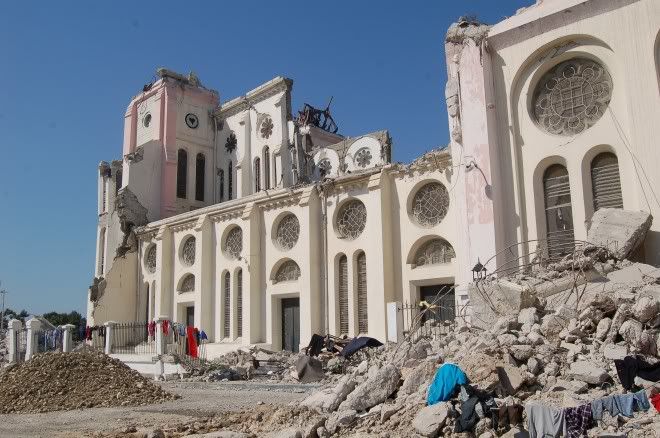 In some places, the devastation is quite complete. This is what remains of Haiti's national cathedral in downtown Port-au-Prince. That area is one of the hardest hit, with some blocks completely flattened. Main streets are now cleared of rubble, but many unsafe structures will still have to be demolished. Work crews are only now starting to tackle the larger piles of debris.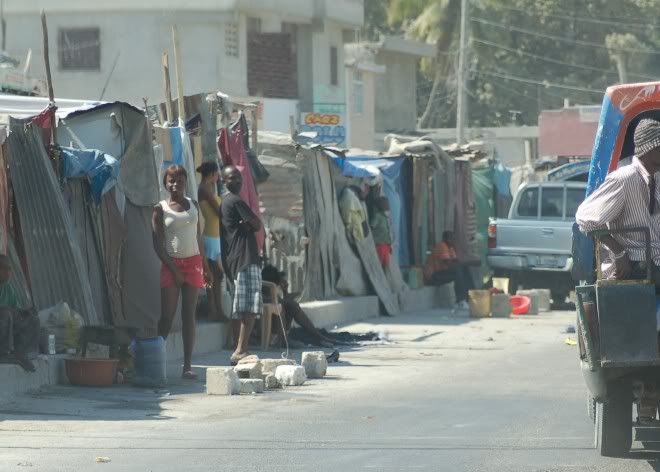 Many residents of Port-au-Prince are still sleeping, quite literally, in the middle of the street. Some demonstrators chant a protest song that criticizes Haitian President Rene Preval. The lyrics: "We are sleeping in the streets, Preval is drinking clairin." (Preval's official residence was also destroyed in the quake.)

Here, a series of tents and shacks has sprung up on a traffic island near the main port.




The U.S. military has become the logistical backbone of a massive relief operation. I flew in through the Navy base at Guantanamo Bay, Cuba, best known as the home of the controversial U.S. detention facility. While the future of the detention camp is still a political football, Gitmo has also become a hub for supporting U.S. relief efforts.

Off the coast of Haiti, Navy ships help ferry personnel and supplies onshore; they also bring seriously hurt Haitians onto hospital ships for emergency treatment. Here, crew members of a CH-53 heavy-lift helicopter prepare to lift off from a landing zone in Port-au-Prince.




Minustah, the U.N. peacekeeping force for Haiti, was badly hit by the quake. The Minustah headquarters collapsed; the Minustah chief of mission, along with dozens of peacekeepers, died in the quake.

Bringing the mission back online will be key: Minustah plays an important role in assisting the Haitian Nation Police in restoring public order, as well as combating gangs and crime.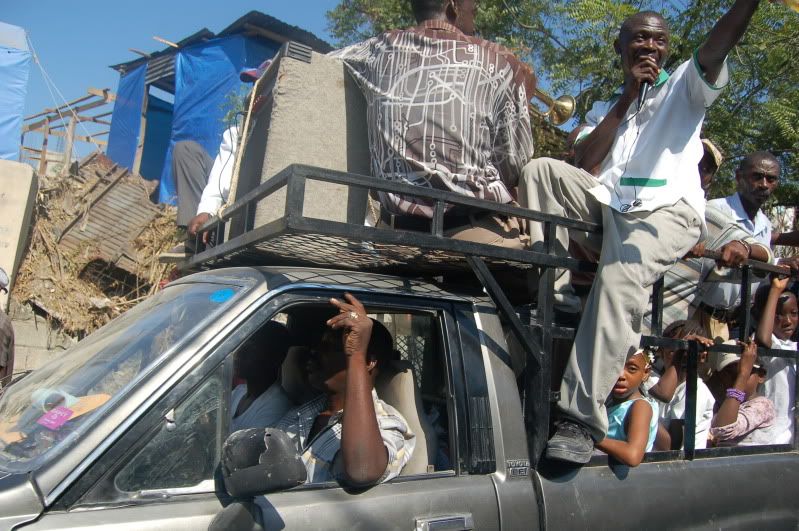 Haiti may recede from the headlines, but the crisis will be far from over. While more aid groups and international development organizations are arriving every day, coordination remains difficult, and distribution of food has often been slow. Aid to Haiti has failed abysmally in the past, and many international development gurus see the earthquake as an opportunity to dramatically rethink foreign assistance and start with a clean slate. Haitian voices, however, often seem to be left out of the discussion about Haiti's future.

Still, Haitians have shown extraordinary resilience and resourcefulness during the crisis. And before I left, the first signs of normalcy were beginning to show. Here, a man leads an evangelical revival, with brass and drums, from the bed of a truck.

Photos: Nathan Hodge

At least comment on the pictures. We need to keep Haiti in the minds of ourselves and our governments. Nearly a quarter million people died during the earthquake and thousands more are dying of starvation, thirst, disease, and injuries.

I've added some other Haiti articles that for some reason were denied. I feel that they are very important articles.



---


Haiti Relief's Secret Weapon: Google Earth
* By Nathan Hodge Email Author
* February 9, 2010 |
* 10:31 am |
* Categories: Haiti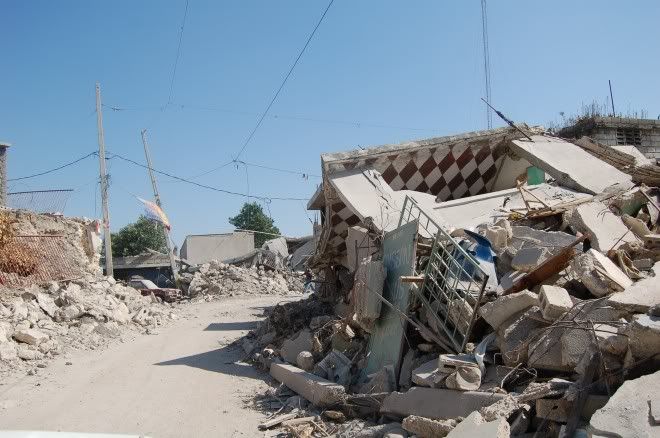 PORT-AU-PRINCE, Haiti — Days after the Jan. 12 earthquake, a group of Haitians set up a small tent camp in an open field not far from the U.S. Embassy. In theory, this small community was well-situated to receive aid: It was in spitting distance of a helicopter landing zone. And right nearby was the World Food Program's consolidated warehouse, where relief agencies store all their goods shipped from the Dominican Republic.

Being close to the nerve center of this massive relief operation, however, was no guarantee of aid. Gene Kunze, a program officer for the U.S. charity Mercy Corps, came upon the camp quite by chance, while scanning a digital map of earthquake relief operations. After noting the grid coordinates, Mercy Corps went out to do an assessment.

"There are so many isolated pockets of people," he said. "Sure enough, no one [from the aid community] was there."

Delivering aid to earthquake-hit Port-au-Prince is, simply put, a logistical nightmare. Unlike tsunami relief in 2004, when aid workers were able to map out the gaps in their operations between villages and towns, Haitians have crowded into small, often isolated, camps throughout this sprawling city: a few families living under lean-to behind a wall, hundreds of people may be camping in an empty lot.

With mounting frustration over the distribution of aid, it has become more important than ever for aid and relief groups to coordinate their efforts: to avoid duplication of effort, and to make sure that help reaches some of Haiti's more isolated communities.

"The U.N. definitely has geospatial information front and center," said Kunze. "And they also have much better map services in general than you would have seen not long ago."

Mercy Corps is using Google Earth to find underserved camps for cash-for-work programs. Kunze flipped open his laptop to show a satellite map of Port-au-Prince: Red stars showed cash-for-work sites, where the group is paying people to help clean up trash and debris. The idea is not just to use this information for Mercy Corps operations, but to share it with the rest of the aid community.

Data is fed to Map Action, located in the U.N. operations center here. As more information comes in, a better picture emerges of what needs to be done in a certain area. It's supposed to help both larger nongovernmental organizations (NGOs) like Mercy Corps as well as smaller groups that are arriving here every day.

Of course, there's a catch: The system is voluntary. The U.N. is pressing NGOs to provide GPS coordinates about their activities, no real enforcement mechanism. Theoretically, the UN requires this basic information from any group that uses its services, including logistics and warehousing, but it is self-policing.

The U.S. government has a more robust tool for enforcing this kind of information-sharing mechanism: Cash. According to aid workers who have attended recent USAID planning meetings, the U.S. government has made it clear that organizations not fully compliant with U.N. coordination (in NGO-speak, the "cluster mechanism") should not expect to see a penny of U.S. government money.

Still, it's a cumbersome mechanism. Participants in the system can't instantaneously plug in grid coordinates or upload a .gpx file. Instead, they have to fill out an Excel spreadsheet, cutting and pasting grid coordinates.

This kind of geotagging also has application for civil affairs-type work in war zones. In Afghanistan, for instance, Mercy Corps uses similar tools to track cash-for-work projects in more dangerous parts of the country. Local workers can take photos and provide GPS coordinates to prove that a project has been completed.

Still, despite the coordination, some Haitians think aid is not getting here quickly enough. On a drive through Port-au-Prince's devastated Fort National area, pictured here, a young man flagged down our truck. With the windows down, the stench was appalling. Nearly all the concrete-and-masonry houses were collapsed, and bodies apparently were still in the rubble.

A young man, who gave his name as Charlie Gabriel, extended a hand, and asked me where I was from. "The American came here, and promised food," he replied. "We got nothing."

What American, I asked. "He was a journalist, from Brooklyn."

Photo: Nathan Hodge

Google to the rescue again.

---


Rebooting Haiti's Quake-Ravaged Coast Guard
# By Nathan Hodge Email Author
# February 10, 2010 |
# 9:11 am |
# Categories: Haiti




KILLICK, Haiti — When the January 12 earthquake struck Haiti, it also knocked out some of the country's key first responders: the Garde Cote, Haiti's coastal police.

The quake collapsed several key buildings at the main coast guard base at Killick, southwest of the capital. The mess hall, depot and main administrative buildings were all seriously damaged; one of the two launch piers was also partly destroyed. Worse still, the commander of the station, Commander Joseph-Jean Mary Wagnac, was injured.

Lt. Commander Jean-Francois Dupiton, the executive officer, took command of a force that was already suffering from a serious lack of investment before the disaster. In an interview with Danger Room, he said the coastguardsmen had to respond to the quake with minimal equipment.

For instance, the Garde Cote did not have a stocked dispensary, so they could not treat injured citizens — or their own personnel. The Haitians train regularly with U.S. forces on exchange programs, so they have the know-how. Problem was, they didn't have the kit.

The same was true with communications. Coastguardsman Jean-Raynold Bataille said the men and women of the Garde Cote had to pay out of pocket for cell phones — and they pooled their money so the base would have a slow internet connection. It's just one sign of how far the Haitian coastal force, which is responsible for search and rescue, harbor security and counter-narcotics, has to go.

Some help has arrived at Killick: U.S. Coast Guard personnel are at the station to help repair infrastructure — and reboot the force. And U..S. Transportation Command (TRANSCOM) has stepped in with emergency repair funds to help fix the main container port, and get goods flowing.

Already, a first floating pier has arrived, along with heavy cranes. A second pier is on the way, and a piling barge is supposed to start work so the piers can be securely moored.

The harbor's north pier collapsed completely in the quake, with some pilings are still sticking up. Repairs to the south pier have helped get cargo flowing again. Local port authorities reckon the harbor may be at 70 percent or 80 percent capacity by March.

Wilhelm Lemke, who runs a shipping business in Port-au-Prince, praised TRANSCOM for the quick turnaround. "It's required a lot of pulling together, but it's coming together," he said.

[PHOTO: Nathan Hodge]

This is totally awesome news. Fixing the port and the coast guard will greatly help the aid get in and help Haiti rebuild itself.

---


Pure Water for Haiti, Afghanistan: Just Add Bacteria
* By Katie Drummond Email Author
* February 10, 2010 |
* 10:58 am |
* Categories: Army and Marines




Pentagon-backed researchers have come up with a novel new way to purify water: Just add bacteria.

Scientists at Sam Houston State University (SHSU) have successfully designed portable, efficient, bacteria-based water treatment units. Two of the devices are on their way to Army bases in Afghanistan, and the research team is in talks with the Pentagon about sending a working prototype to help relief efforts in Haiti.

The systems, called "bio-reactors," clean putrid water using the same bacteria you'd find in a handful of dirt. The bacteria filter the water, then eat up the sludge that's a common byproduct of waste treatment. It's all done in less than 24 hours, and from devices smaller than a standard shipping crate.

To put that into perspective, an average waste-water treatment process can take up to a month, and produces toxic sludge as an inevitable byproduct.

Researchers isolated a set of bacterium to do the filtering, and they've now patented that combination. The Army has already ordered six units, and now that the team has the bacterial combination mastered, they're confident that the project can quickly be scaled to hundreds of units — assuming the Defense Department keeps up the funding.

They probably will, given the ongoing logistical challenges the military's been up against in Afghanistan, where troops need convoys of water trucks because of a lack of purified local sources. The Marine Corps' Marine and Energy Assessment Team (MEAT) estimates that a better option for water purification could mean 50 fewer military trucks on the roads, according to InsideDefense.com. Less dependency on fuel would add up: Right now, a single soldier in Afghanistan uses 22 gallons of fuel per day.

But war zones are only one application for the bacteria-based sludge removers. Natural disaster sites would benefit immeasurably from portable, low-cost, quick water treatment systems. In Haiti, one of the biggest challenges has been coping with contaminated water. Dan Davis, SHSU's associate vice president for research administration and technology commercialization, said that a single unit could purify a trench latrine within a single day, and then provide a constant stream of clean water.

Yesterday, Davis got a call from his contact at the Department of Defense, asking if SHSU researchers would be willing to send their prototype for immediate use in Haiti. He's waiting to hear back, and says he looks forward to the day when hundreds of the units are readily available.

"From cruise ships to oil tankers to dangerous war terrain, these things can go anywhere," he told Danger Room. "Ideally, we'd have these ready to roll out for natural disasters. Something as simple as clean water could easily save thousands of lives."

Photo: Department of Defense

Texas Research Universities FTW! This will GREATLY help in the recovery efforts of Haiti and the rest of the world. Think of how many nations and regions have unclean water. Think about how something as small a crate can clean a latrine full amount of water in one single day! This will be an enormously powerful tool in helping third world nations. I wonder if they could get a Nobel prize for this?

Correction via comments: @Strangeite These things are the size of a 20′ ISO shipping container. That's more than 10000 gallons a day. The Slingshot also doesn't get rid of the waste left behind when the water evaporates, while these things eat the waste left over.