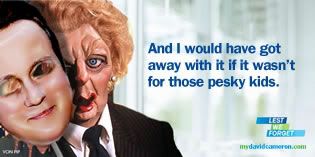 David Cameron has denied it is ''squeaky bum time'' for the Conservatives following polls suggesting their lead over Labour has shrunk to as little as two points.

Mr Cameron acknowledged that the upcoming general election would be ''a tight contest'', but insisted a close race was a good thing as it would focus voters' minds on the choice between five more years of Gordon Brown or a change to a Tory administration.

And asked if it was ''squeaky bum time'' for the Conservatives, he laughed and replied: ''There's certainly nothing squeaking over here.''

Mr Cameron said he wanted to be honest with voters about the fact that Britain was facing a ''tough'' couple of years following the election, but insisted that with a Tory government there would be ''a really bright light at the end of the tunnel''.

In an informal interview with DJ Jamie Theakston on Heart 106.2 radio, the Tory leader also discussed his taste for country and western music, his role in almost preventing a Take That reunion and the ''bed-hopping'' that goes on in the Cameron household.

Asked how morning starts in the Cameron household, he said: ''It starts some time before seven o'clock, normally with the arrival of a small child into the marital bed - either Elwyn or Nancy.

''Sometimes they pitch up in the middle of the night - there's a lot of bed-hopping happens in my house. They do tend to wander in at various times of night, and sometimes you wake up as a result in a different bed.''

He also confirmed press reports from last November that he got between Take That and former member Robbie Williams when he went backstage at the Children in Need concert to talk to Gary Barlow, who lives in his Oxfordshire constituency.

Mr Cameron said: ''I heard this commotion behind me and I didn't turn round straight away - typical politician, I carried on yakking away - and then I turned round and it was Robbie Williams.

''I said 'Oh my God, I'm sorry. I don't want to get in the way of this' and he said something like 'I've been waiting 14 years, another couple of minutes won't make any difference'. I got out of the way and thought I had better get back to my seat quickly.''

Despite the Tories' recent slump in the polls, Mr Cameron said that he wanted the election to be called as soon as possible, adding that it was not too late for Gordon Brown to go to the country on March 25 by declaring the election today or tomorrow.

And he admitted: ''It is going to be a tight contest. It's going to be a tough race and I think that's only right. It is a huge decision to change your government and put a new Prime Minister in place. You are asking a lot of people.

''People in this country are right to really think hard and have a really good look at both parties and take the decision: Do I want more of Gordon Brown or do I want change with the Conservatives?

''I think a close race is a good thing in many ways. People are not just cynical and apathetic about politics, they are angry with politicians after the whole mess of expenses. Turnout at elections is coming down.

''Maybe a close race, where people see a real choice and a real contest between the two teams that can run the country, will enliven interest in politics, get people involved and make people feel that they ought to take part.''

Mr Cameron said he did not want to hide the fact from voters that Britain faced difficult times ahead.

''We have had a really long deep recession, we have got a huge deficit, we have got to lift this cloud of debt off this country to get us moving again,'' he said.

''What the Conservatives are saying about rolling up our sleeves and getting on with it, I think, is right.

''It will be tough for a couple of years in this country, and I don't want to hide that from people, but there is a really bright light at the end of the tunnel and that's what we have got to get to.''

Source


And this, my friends, is why I love British politics.