Found this pic had to put it here.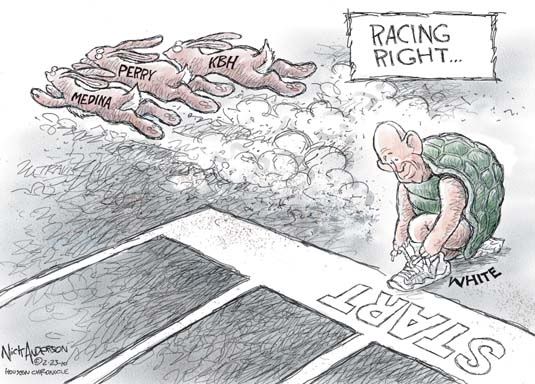 Candidates make last sweep before Texas primary
By KELLEY SHANNON, AP Political Writer Kelley Shannon, Ap Political Writer – 36 mins ago

AUSTIN, Texas – With the clock ticking in a rough Republican primary, Gov. Rick Perry and Sen. Kay Bailey Hutchison swept through the urban areas of Texas on Monday seeking votes in their gubernatorial showdown.

GOP activist Debra Medina, a favorite of many tea party voters, is also in Tuesday's contest — a race that could result in a runoff if no one wins a majority. Perry wants an unprecedented third full four-year term; Hutchison argues that he's trying to stay too long; and Medina says she's the best alternative to the establishment candidates.

Perry, the state's longest-running governor, visited Harris County Republican Party headquarters on Monday and told supporters packed into a small room to get themselves and their friends to the polls Tuesday and help him "get this behind us."

"A resounding victory tomorrow is going to be about Texas. It's going to be continuing to send a message to folks all around this country that Texas is the land of opportunity," he said, praising the state as a place of fiscal responsibility and criticizing Washington, D.C., for wasteful spending.

Trying to combat Perry's anti-Washington message, Hutchison told voters at a Houston shopping mall that she was the "real conservative." She said she had fought in Washington for Texas and against President Barack Obama's stimulus and health care proposals.

"Tomorrow's my big day," she told people munching on their lunches in the food court as she handed out her card and urged them to vote. She said she would institute state ethics reforms and combat the 30 percent dropout rate.

Among Democrats, ex-Houston Mayor Bill White is the front-runner looking to defeat wealthy Houston hair-care magnate Farouk Shami, a political novice who put up large sums of his own money to run.

Houston, Dallas and San Antonio were hot spots on the campaign trail for the major candidates Monday. Hutchison also ventured into East Texas, visiting Tyler. Perry had to cancel one stop in Beaumont because of bad weather, but called in to the scheduled rally there so he could speak to voters.

Hutchison and Perry each spent millions of dollars on television ads in a heavyweight race that Texas hasn't seen since Republicans began taking over state government — with George W. Bush leading the way — in the 1990s. (See, we used to be Democrat land)

White, who's been airing TV ads too, greeted lunchtime diners at a Mexican restaurant in San Antonio on Monday. He said he grew up in San Antonio and hopes to be seen as a hometown candidate. (That's one way to get the Latino vote) He acknowledged that much of the attention has been on the Republican fight, but he said that hasn't been a disadvantage for him.

"I get to learn what Texans are thinking, while the career politicians are just worried about staying in office," White said.

A multitude of other state and congressional offices are on Tuesday's ballot.

Some of the more competitive down-ballot races are between Democrats, such as the one between comedian and author Kinky Friedman and cattle rancher Hank Gilbert in the race for the agriculture commissioner nomination. And there are heated Republican races for the State Board of Education, where some GOP candidates are trying to unseat prominent Christian conservatives. (This is to get rid of the Christian fundies from re-writing our and YOUR textbooks.)

Early voting over the past two weeks was high compared with the last gubernatorial primary year, as measured in the 15 most populated counties by the Texas Secretary of State's Office. Agency spokesman Randall Dillard said it was difficult to say if that would signal a higher-than-usual election turnout overall.

A total of 491,116 early votes were cast in the 15 most populated counties, or 6 percent of the registered voters in those counties. In 2006, when there was last a governor's race, early voting in the 15 most populated counties totaled 251,432, or 3 percent of their registered voters.

This year 62 percent of early ballots cast in those high-population centers were in the Republican primary.

___

Associated Press writers Juan Lozano and Ramit Plushnick-Masti in Houston and Michelle Roberts in San Antonio contributed to this report.


Yes I did make this post solely for that corney statement. So what.
So how many of that 62% is Dems voting in the Repugs to screw with the repugs and how many is Tea Party trying to get Medina in?
Tomorrow is going to be GOOOD.