New England floodwaters recede, but danger remains
By ERIC TUCKER and PAT EATON-ROBB, Associated Press Writers Eric Tucker And Pat Eaton-robb, Associated Press Writers – 1 hr 27 mins ago

WEST WARWICK, R.I. – Stacey Marcure thought she and her family had survived the worst of flooding two weeks ago, when no more than 5 inches of water seeped into her basement. Then she woke to a fresh burst of heavy flooding spurred by record-setting rainfall that caused havoc in this former mill town and much of the Northeast.

Her family made it out safely Tuesday morning, though her husband had to be rescued by boat after he returned to raise valuables to the top floor. Now she's staying with relatives, unsure what will become of possessions such as her daughter's first communion dress — or the home that had been in her family for 70 years.

"It's definitely not going to be livable, at least not for a while," said Marcure, 38, a teacher's assistant.

The rains stopped Wednesday and the floodwaters began to recede in hard-hit Rhode Island, though what the governor called the worst flooding in 200 years could persist for several days and permanently close businesses already struggling in the weak economy.

Homeland Security Secretary Janet Napolitano plans to travel to Rhode Island on Friday to assess the damage, a department official told The Associated Press on Wednesday on condition of anonymity because the trip hadn't been formally announced.

The latest flooding there was far worse than an inundation earlier this month in the same areas, and the ripple effects were vast and still being tallied: Hundreds were forced from their homes and thousands of properties lost power. Bridges and highways were washed out from Maine to Connecticut and sewage systems were overwhelmed to the point that families were asked to stop flushing toilets.

Homes and cars were submerged along the banks of the Pawtuxet River, which flooded several blocks past its banks in many spots and crested Wednesday at 20.79 feet — 12 feet above its ordinary level of 9 feet.

Water flowed like a torrent around the Warwick Mall, with rapids encroaching outside an Old Navy and Macy's. Oil slicks floated on top of muddy water through neighborhoods.

Stonington, Conn., a coastal town on the Rhode Island border, was largely cut off as two of its three bridges went out. A bridge also gave out in Freetown, Mass., isolating about 1,000 residents. In Coventry, R.I., the abutments on a two-lane bridge had washed out, and officials continued to monitor it Thursday for potential collapse.

A stretch of Interstate 95, the main route linking Boston to New York, was still closed and could remain so for days as engineers inspect structural damage. Amtrak suspended some trains because of water over the tracks.

The heavy rain is the latest setback to Rhode Island, which has struggled for months with an unemployment rate nearing 13 percent — about three percentage points higher than the national average. Some of the areas worst hit were business districts.

Amy Kempe, a spokeswoman for Gov. Don Carcieri, said it was too soon to know the economic impact of the latest round of flooding to the state, which has a $220 million budget deficit.

But Angelo Padula Jr., a West Warwick city councilman, said he assumed the flooding was a death knell for his family business — an auto-restoration company founded by his grandfather 100 years ago.

"Two hundred sixty cars are all underwater, my building is under water, my office trailer is under water," he said. "We lost everything."

Padula's town was especially threatened. West Warwick is designated a "distressed community" by the state because of its many low-income residents and heavy tax burden. During the last round of flooding, businesses in that town alone were estimated to have missed out on $730,000 in revenue.

Every resident of Rhode Island, a state of about 1 million, was asked to conserve water and electricity because of flooded sewage systems and electrical substations. Health officials urged people exposed to floodwater to wear long sleeves and wash their hands regularly to avoid bacteria and viruses.

The waters either stranded hundreds of people or sent them to shelters. Many who stayed behind appeared shell-shocked.

Monica Bourgeois, 45, cried Wednesday as she stood outside her home in Cranston, where a sewer pump station gave out and hundreds of people had evacuated. The Pawtuxet had turned her lawn into a lake and flooded her basement with 6 feet of still-rising water.

"I have absolutely no idea how we're going to pay for this," she said. "I'm extremely, extremely worried. Do you know how much a new furnace costs? We're just praying to God for some help."

The flooding caps a month that set rainfall records across the region. Boston measured nearly 15 inches for March, breaking the previous record for the month, set in 1953. New Jersey, New York City and Portland, Maine, surpassed similar records. Providence registered its rainiest month on record, period, with a total of more than 15 inches of rain in March.

President Barack Obama issued an emergency declaration for Rhode Island, ordering federal aid for relief and authorizing the Federal Emergency Management Agency to coordinate efforts.

National Guard troops were deployed in Rhode Island, Massachusetts and Connecticut.

Life came nearly to a standstill in many parts of Rhode Island. Nonessential state workers were given the day off, and state officials asked schools and businesses to consider closing as well. The University of Rhode Island also closed.

Roman Catholic Bishop Thomas Tobin announced an additional $15,000 for clothing and food to flood victims, and residents were given a one-month extension to file their state and federal taxes.

In Connecticut, two apartment buildings in Middletown damaged by flooding were evacuated. In Peabody, Mass., north of Boston, some residents were evacuated, and downtown businesses piled sandbags at their front doors and nearby streets were closed.

Demetri Skalkos, co-owner of McNamara's liquor store, said about 3 feet of water stood in the basement. He said he was worried about losing business over the traditionally busy Easter period.

"This is the Holy Week," he said. "If we don't do business now, when are we going to do business?"



Flood waters surround the Warwick Mall in Warwick, R.I., Wednesday, March 31, 2010. Rhode Island rivers overflowed their banks, causing flooding and road closures after three days of record breaking rains.
(AP Photo/Charles Krupa)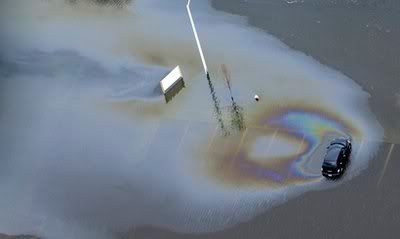 An oil slick spreads from a car in a flooded parking lot of an office complex in Cranston, R.I. on Wednesday, March 31, 2010. Rhode Island rivers overflowed their banks, causing flooding and road closures after three days of record breaking rains.
(AP Photo/Charles Krupa)



Two buildings in an office park adjacent to the closed Interstate 95 are surrounded by floodwaters of the Pawtuxet River in Warwick, R.I., Wednesday, March 31, 2010. Rhode Island rivers overflowed their banks, causing flooding and road closures after three days of record-breaking rains.
(AP Photo/Charles Krupa)



Oil slick runs through an industrial area of the Pawtuxet River in Warwick, R.I., Wednesday, March 31, 2010. Rhode Island rivers overflowed their banks, causing flooding and road closures after three days of record breaking rains.
(AP Photo/Charles Krupa)



More pictures found here
Boston.com viewer photos
Boston.com pictures of the flood
Boston.com Flood page <- Worth a look, especially the how to build an ark and rainy day playlist
graphic on how to clean up after a flood


I'm kinda shocked no one has posted anything about how horrible the flooding has been. I wonder if this means that the 'Lousianna purchase' amendment to the Health Care Bill will now be applied to Rhode Island.

I wonder what the Tea Party folk think about federal aid for disasters? Bootstraps? Or since it effects everyone, including them, it doesn't count as the federal government stepping on the states' toes?

Btw, this summer is going to be hell. Expect HIGH temperatures, tornadoes and massive amounts of rainfall. Texas has been told to prepare for flooding.