Gears of War 3: Adding a Female Character?
8:16 pm - 04/14/2010
Gears of War 3: Adding a Female Character?
(originally via
Kotaku
, but don't read the comments there unless you want to start curbstomping people--which is why I went for the original blog post rather than the Kotaku article.)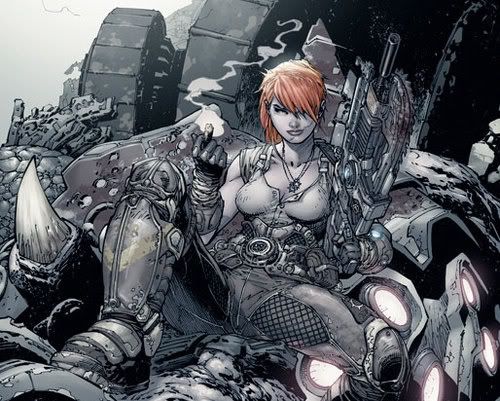 Gears of War 3 hasn't been announced -- although the game's teaser debuts a week from today, and the game itself will be out in April 2011 or later. So, why am I thinking about Gears right now? Well, the recent "Girls & Games" PAX panel and its accompanied discussion about female characters made me think about
how difficult it is to portray women in a male-centric story without making it seem like the entire gender has been forgotten and/or passed over.Gears of War, one of my favorite franchises, is a story of hyper-violent meatheads packed with brawn and lacking in brains ... and it's almost completely female-free. The Gears series is a celebration of masculinity, almost to the point of parody
:
the men in this game look like they eat steroids instead of Wheaties for breakfast
.
The female panelists at the PAX panel cited the Gears guys as examples of "idealized" men in an attempt to defend the bajillions of idealized, over-sexualized female characters in, oh, every game ever -- but these men aren't idealized sexually.
They're idealized for their masculinity: they are physically fit to the point of absurdity, and they can even be emotional without seeming like sissies.
Gears' lack of romance and female influence actually makes the game seem ... well, kinda gay. (Think Achilles and Patroclus, not Boy From Oz.) I am not the only person who has picked up on this. Even though Dom has a wife, Maria is a MacGuffin, not a character, and she only has a couple of throwaway lines in a flashback.
The only female character, Anya Stroud, is a lieutenant -- but you'd never know it, since the petite blond spends the game getting in and out of helicopters, narrowly escaping danger (off-screen, of course), and staying out of the real action while advising male soldiers over her headset.
She must have been a heavily armored COG at some point, in order to move through the ranks -- but if that's the case, where are all of the other female COGs?
(
Apparently, the reason why we never see any women in Gears is that they're all busy ... having babies.
Collapse
)
--
...Seriously, the only role the creators of Gears of War see for women in the future is
baby makers
? And the only way not to be relegated to 'incubator' is to incapable of bearing children? Really?
Really
?
This reminds me of the game devs who wrote off creating female characters in favor of realistic wall damage. :/