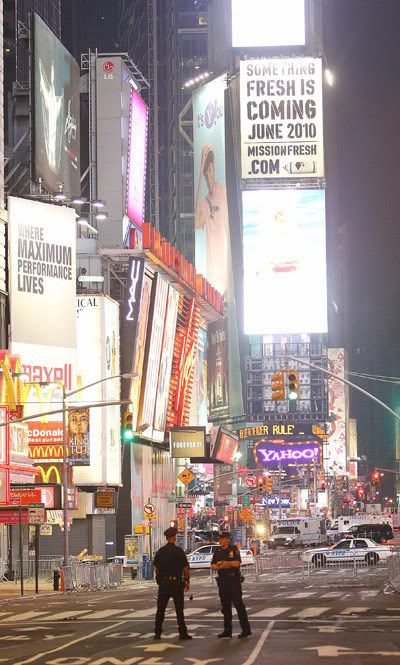 On alert
(Mario Tama, Getty Images / May 2, 2010)
Police keep watch after a suspicious vehicle prompted authorities to shut down parts of Times Square.



Times Square empty
(Craig Ruttle, Associated Press / May 1, 2010)
Times Square is void of pedestrians just south of 46th Street in New York as police investigate an apparent car bomb.



Empty
(Mario Tama, Getty Images / May 2, 2010)
A boys looks at an evacuated Times Square. Officers were deployed around the area with heavy weapons.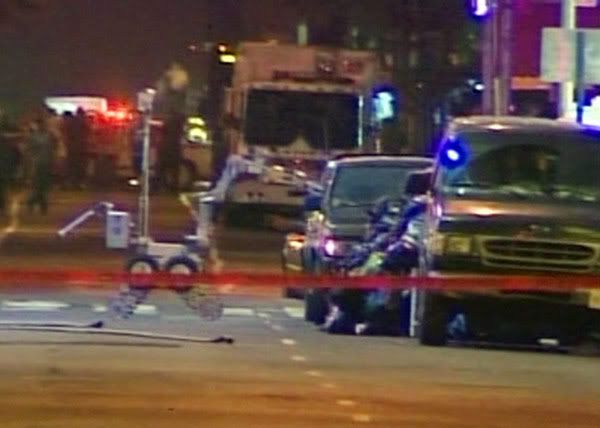 Robot
(Associated Press / May 2, 2010)
A police robot nears a Nissan Pathfinder containing a car bomb in Times Square.



Keeping watch
(Peter Foley, EPA / May 1, 2010)
A police officer stands watch on an empty street. The block that was closed is one of the prime areas for Broadway shows.



Directions
(Peter Foley, EPA / May 1, 2010)
Police direct pedestrians in Times Square. Mayor Bloomberg called the explosive device "amateurish" but potentially deadly.



Mayor speaks
(David Karp, Associated Press / May 2, 2010)
"We are very lucky," Mayor Bloomberg said.


N.Y. police search for suspect in Times Square car bomb
By Tina Susman, Los Angeles Times
May 2, 2010 | 2:33 p.m.

Reporting from New York
New York police and FBI agents were searching Sunday for a man seen walking away from a Times Square car bomb and glancing back "in a furtive manner" minutes before smoke filled the vehicle, loud "pops" rang out, and tourists, theater-goers and diners began scrambling away from the SUV.

Police chief Raymond Kelly said the bomb could have created a "significant fireball" and hurled shrapnel through streets jammed with tens of thousands of people enjoying an abnormally warm Saturday evening in one of the world's busiest intersections. Police cleared Times Square of pedestrians and vehicles for hours after the incident, which began about 6:30 p.m. Eastern time Saturday.

By midday Sunday, the square was reopened and crowded with tourists and locals heading to Broadway matinees, but details about the bomb's makeup and the materials found inside the vehicle indicated that mayhem was narrowly averted.

At a news conference, Kelly said the dark green Nissan Pathfinder with tinted back windows concealed a lethal package of plastic cans filled with gasoline, dozens of M-88 firecrackers, three propane tanks, two alarm clocks, wires and a 70-pound metal gun box holding bags of a material "granular in nature."

"It does have the look and feel of fertilizer," said Kelly, adding that the substance was being investigated to determine what it was. Fertilizer can be used to make explosives and was the key ingredient used by Timothy McVeigh in the Oklahoma City bombing of April 1995 that killed 168 people.

"If this had detonated, in my judgment, it would have caused casualties," Kelly said. "I'm told the vehicle itself would have at least been cut in half."

An Islamist website said Sunday that the Pakistani Taliban had claimed responsibility for the Times Square bomb, but there was no independent confirmation of the claim, and Kelly said there was no evidence to support it. He also said another claim of responsibility had been sent to a local news organization, but he gave no details.

For now, Kelly said the focus was on finding the man captured on surveillance video walking south from where the car was parked on West 45th Street down a narrow alleyway. As he walked away, the man, described by Kelly as in his 40s, looked back in the direction of the SUV. "He also was seen shedding a dark shirt, revealing a red one underneath," said Kelly, who described the man's demeanor as "furtive."

In addition, a tourist from Pennsylvania had told police he was filming the policeman on horseback who first responded to the smoking SUV and might have images of the driver. Authorities were planning to meet with the unidentified tourist in Pennsylvania to view the video, in addition to scanning hours of images from the scores of surveillance cameras positioned throughout Times Square.

The rear license plate on the SUV did not match the vehicle but belonged to a car in a Connecticut repair shop. Neither the owner of the license plate, nor the SUV, was identified.

In a pre-dawn news conference, Mayor Michael R. Bloomberg described the bomb as "amateurish," but security officials seemed Sunday to be taking it far more seriously as details of the car's contents became known. Though the claim of responsibility from the Taliban was being questioned, all agreed that the incident added up to a form of terrorism, be it a homegrown lone wolf or someone trying to represent an international organization.

"We're taking this very seriously," Homeland Security Secretary Janet Napolitano said on CNN's "State of the Union." "We're treating it as if it could be a potential terrorist attack."

"A terrorist act doesn't necessarily have to be conducted by an organization. An individual can do it on their own," Kelly said when asked to characterize the incident.

In a city notorious for its lack of parking, the SUV that glided seamlessly to the curbside in the heart of Times Square on a traffic-choked weekend evening was bound to draw attention. Within minutes, long-time street vendors had become curious about the unattended vehicle. Duane Jackson left his handbag stall and trotted across West 45th Street to peer into the car's windows, seeing keys dangling from the ignition. Lance Orton, a T-shirt vendor, spotted smoke coming from the Pathfinder and alerted a passing policeman.

Tourists and vendors in Times Square on Sunday seemed unfazed by what had transpired just hours earlier. Most said it was a sign of the times, and a reminder that New York always will be target No. 1 for terrorists of all ilk wanting to gain attention.

"You're never even safe in your own kitchen. There's always a butcher knife or a bread knife around," said Jackson, dismissing the idea that the spot where he has worked as a vendor for the past six years might be too risky. "It's the same here."

tina.susman@latimes.com
Copyright © 2010, The Los Angeles Times


I won't be saying that this is the work of the Tea Party...but the person seen is a white male in his 40's and the vehicle is a Pathfinder SUV. It seems that the vitriol spewing anti-government movement is now bringing actions to their rhetoric.