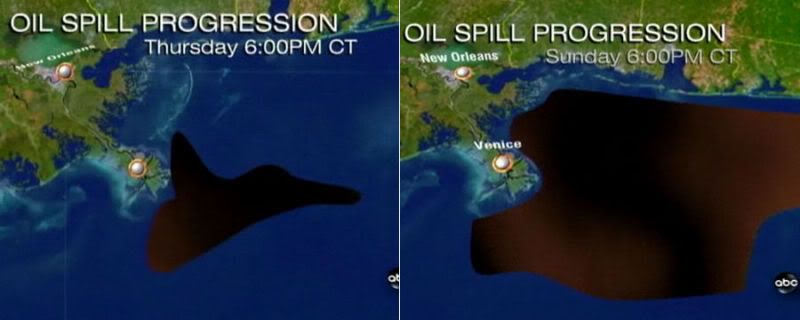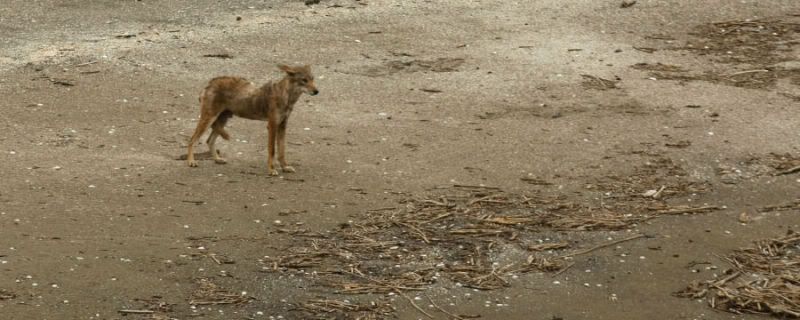 Oil Spill TRIPLED In Size In 3 Days (VIDEO)
AP/Huffington Post First Posted: 05- 3-10 10:50 AM | Updated: 05- 3-10 11:01 AM
BP is preparing a system never tried nearly a mile under water to siphon away the geyser of crude from a blown-out well a mile under Gulf of Mexico waters. However, the plan to lower 74-ton, concrete-and-metal boxes being built to capture the oil and siphon it to a barge waiting at the surface will need at least another six to eight days to get it in place.

Crews continued to lay boom in what increasingly feels like a futile effort to slow down the spill, with all ideas to contain the flow failing so far.

"I've been in Pensacola and I am very, very concerned about this filth in the Gulf of Mexico," Florida Gov. Charlie Crist said at a fundraiser for his U.S. Senate campaign Sunday night. "It's not a spill, it's a flow. Envision sort of an underground volcano of oil and it keeps spewing over 200,000 gallons every single day, if not more."

A video simulation produced by ABC News showed that the size of the slick has tripled in size in just a few days (simulation starts at 1:25):





---


Oil Spill Booms BREAKING DOWN Due To Bad Weather, Governor Says
Posted: 05- 3-10 09:47 AM

MOBILE, Ala. (AP) -- Alabama Gov. Bob Riley says most of the inflatable booms deployed to catch the oil spill are breaking down, forcing crews to rework their contingency plan.

Riley said Sunday that 80 percent of the thousands of feet of booms the Coast Guard and other crews have laid down off the Alabama coast over the past three days have broken down in the bad weather. He says the other Gulf Coast states are experiencing similar problems.

Riley says luckily the winds are keeping the oil slick off the coastline for now. The National Oceanic and Atmospheric Administration doesn't predict oil hitting the region from Mississippi to Florida within the next 72 hours.

The Alabama National Guard has been activated to help build barriers on the beaches.


---


Robert Menendez Pushes Bill Raising BP's Oil Spill Liability To $10 Billion
First Posted: 05- 3-10 12:15 PM | Updated: 05- 3-10 01:24 PM

A trio of Democratic Senators are introducing legislation on Monday that would dramatically raise the amount of money that oil companies like BP would have to pay in economic damages in an event of a spill.

Authored by New Jersey Sen. Robert Menendez, and co-signed by fellow Garden Stater
Sen. Frank Lautenberg and Florida Sen. Bill Nelson, the (craftily-titled) "Big Oil Bailout Prevention Act" would raise the economic damages liability cap for offshore oil spills from $75 million to $10 billion.

The impetus for the legislation were reports that surfaced over the weekend that British Petroleum, the company responsible for the disastrous spill in the Gulf Coast, would face limited responsibility for covering costs beyond cleanup and containment.

The oil company, in addition to others, pays money into the Oil Spill Liability Trust Fund -- a kind of rainy day piggy bank for handling the immediate costs of dealing with disasters. Under the charter of the federal law that created the $1.6 billion fund, however, operators of the offshore rig face no more than $75 million in liability for non-cleanup and containment damages. And in a region like the Gulf Coast the cost to local industry of a massive oil spill can easily skyrocket well beyond that total.

"We're glad that the costs for the oil clean up will be covered, but that's little consolation to the small businesses, fisheries and local governments that will be left to clean up the economic devastation that somebody else caused," Menendez said in a statement. "We can't let the burden fall to the taxpayers - we should ensure that those who cause the damage are fully responsible. There is no such thing as a 'Too Big to Spill' oil well."

Introduced in a hurry, the bill would affect the current crisis surrounding BP. And from the tone set by the title, the text of the legislation, the three Senators -- all vocal offshore drilling opponents -- appear determined to make it as tough a vote as possible for their colleagues on the other side of the debate.

In addition to forcing oil-spillers to cover the costs of economic recovery, the legislation would require companies like BP to spend future revenues on cleanup and containment costs that exceed the Oil Spill Liability Trust Fund's $1.6 billion. It would also eliminate the $1 billion cap on individual claims against the fund and allow community responders to access the fund for "preparation and mitigation up front."


---


Wake up, Obama. The Gulf spill is our big chance
by Jonathan Hiskes
30 Apr 2010 11:50 AM

President Barack Obama so far has said nothing about the screamingly obvious connection between the spoils of fossil-fuel dependency and the vision of a clean-energy economy that he's been sporadically promoting. Instead he had this tepid statement on the Gulf oil spill Friday morning: "I continue to believe that domestic oil production is an important part of our overall strategy for energy security."

What happened to never letting a crisis go to waste? This mother of a crisis runs straight into our fossil-fuel addiction. It's a prime opportunity for progressives and clean-energy advocates to demonstrate the desperate need for new forms of energy. It's a prime opportunity to pressure the Senate to put a price on carbon pollution and invest in the R&D necessary to jump-start a clean energy economy. It's a prime opportunity to do all this without the corrupting influence of Big Oil, which had a hand in writing the elusive Kerry-Graham-Lieberman energy bill. Executives from BP--the company responsible for this mess--and Chevron and ConocoPhillips were planning to stand in support at the rollout of the KGL bill this week. Now's the chance to move a bill that isn't contorted by concessions to the dirty energy industries.


---


Fumes reach coastal counties
Posted: May 02, 2010 11:44 AM CDT
Updated: May 02, 2010 11:44 AM CDT
By Carrie Duncan

BILOXI, MS (WLOX) - Petroleum fumes are now in all coastal counties. Dr. Bob Travnicek with the State Department of Health reiterated to WLOX the fumes are not dangerous. Travnicek advises people who are more sensitive to the smell to stay indoors.

Few people who are very sensitive to the fumes and air quality issues may experience:

•Nausea
•Vomiting
•Headaches
If you have these symptoms, you should consider staying indoors, ventilating your home with air conditioning and avoiding strenuous outdoor activity. Removing yourself from the odor will generally clear up the symptoms.

If these symptoms do not improve, you should then consider contacting your primary care physician or other health care provider for medical advice.

If you have pre-existing medical conditions, such as asthma or other respiratory illness, you should consider communicating with your physician if you feel symptomatic. If you experience a medical emergency, call 911

The EPA is continually monitoring coast air quality for changes and possible risks. MSDH will issue appropriate alerts if dangers exist.

For a look at current air quality along the gulf coast, click HERE.

VIDEO AT SOURCE


---


Exxon Valdez Victims Give Gulf Region Oil Spill Advice, Describe Shocking Human Toll Of Disaster
DAN JOLING and MARK THIESSEN | 05/ 3/10 01:28 PM |

CORDOVA, Alaska — Communities along the Gulf Coast wondering about what kind of legacy the monstrous oil slick will leave can look no further than the towns along the Alaska coastline that were ravaged by the Exxon Valdez spill in 1989.

Crude oil from the tanker still lingers on some beaches a full 21 years later. Some marine species never recovered. Families and bank accounts were shattered. Alcoholism, suicide and domestic violence rates all rose in hard-hit towns.

"As far as what's ahead, we have a feeling that we kind of know what those communities and individuals are going to go through, and it's absolutely tragic," said Stan Jones, spokesman for the Prince William Sound Regional Citizens' Advisory Council.


---


Gulf oil spill: BP accepts responsibility for oil cleanup
May 3, 2010 | 8:15 am

BP, the oil company at the heart of what was likely the nation's worst oil disaster, said on Monday it would pay for the cleanup costs connected to the massive oil leak in the Gulf of Mexico.

In a round of appearances on morning television and radio news shows, BP Chief Executive Tony Hayward accepted responsibility for the cleanup and said the company would pay compensation for legitimate claims for property damage, personal injury and business losses.

"We are responsible, not for the accident, but we are responsible for the oil and for dealing with it and cleaning the situation up," Hayward said.

The original accident took place April 20 on a deep-water rig operating about 130 miles southeast of New Orleans. The rig sank two days later, and 11 were believed dead.

Oil began leaking from the wellhead, pouring at least 5,000 barrels of oil into the gulf waters, though some estimates have place the flow from three leaks at much more. The leading edge of the oil has reached Louisiana wetlands and is expected to make landfall in the next days.

Throughout the weekend, federal officials led by President Obama have stressed that BP will be responsible for the cleanup and for capping the leaking well.

On Monday, Hayward acknowledged that his company would be responsible for the cleanup, expected to cost billions of dollars. But he was careful to contend that the original accident was the fault of offshore drilling contractor Transocean Ltd., which operated the rig that sank.

"We will await all the facts before drawing conclusions, and we will not speculate," a spokesman for Transocean said.

The original accident and the oil leaks also are being investigated by the federal government.

Hayward explained in his appearances that the company was working below the surface to cap the leaks from the well, some 5,000 feet underwater. BP is also working on the surface to control the leak with chemicals to disperse the oil and has an active effort underway to place booms to contain the spread of the spill.

-- Michael Muskal
Twitter.com/LATimesmuskal


---
http://www.latimes.com/videobeta/?watchId=f7bbc397-4b37-4f41-8daa-73c547954eaf
---


Controversy over BP's cleanup contracts with gulf fishermen

While Louisianans brace for the Gulf Coast oil slick to make landfall, the oil giant BP has been focusing on a different sort of disaster preparedness: seeking to indemnify itself against the wave of lawsuits that legions of attorneys are already preparing to file over the spill's impact. The company, which owns the destroyed gulf oil rig that is pumping millions of gallons of crude oil into the waters off Louisiana, Mississippi and Alabama, has reportedly been pushing commercial fishermen pitching in with relief efforts to sign settlement agreements capping any claims against the oil giant at $5,000, and reining in future legal action arising from the spill.

On Monday morning the Mobile Press-Register reported that Troy King, Alabama's attorney general, ordered BP to desist distributing the agreements to Alabama's fishermen. "People need to proceed with caution and understand the ramifications before signing something like that," King said. "They should seek appropriate counsel to make sure their rights are protected."

Sources in the Louisiana commercial fishing industry alerted Yahoo! News over the weekend to another legal effort by BP causing unrest among the area's fishermen. On Friday, hundreds of them turned out in Boothville to receive training on how to use their vessels and knowledge of local waterways to assist in the cleanup.

Many of the fishermen in attendance reported that the employment contract provided by BP contained language that would institute obstacles to potential suits filed against the company in the future.

Yahoo! News contacted BP to request a copy of the contract in question. Company spokesman Steve Rinehart said that "we don't have one to provide you at this time" but that the company was moving to remedy fishermen's complaints.

"Some people had problems with it, but as soon as we learned that the language which we thought was pretty standard was causing people grief, we changed it," Rinehart said in a phone interview. "We don't want any dispute, disagreement or anything to cause these people any grief. We're looking for standard contracts that make use of their vessels and their knowledge of the local waters. We don't want any legal hurdles to prevent us from putting these people to work. We have taken immediate steps to get around that and get past it. We want these people going to work for us. We need their boats and we need their brains and we don't want anything to get in the way."

In another action involving the same contract, the Commercial Fishermen's Association received a favorable ruling Monday from the U.S. District Court for the Eastern District of Louisiana, according to TreeHugger.com. It struck down language seeking to prevent fishermen under contract in the cleanup effort from airing public comments about BP without prior clearance from company officials.

— Brett Michael Dykes is a national affairs writer for Yahoo! News.

Video at Source


---


Obama's Katrina in the Gulf? No comparison

The NY Times today runs—and, perhaps more significantly, Politico's Playbook email blast cites—a classic case of pointless navel-gazing the press too often engages in, at the expense of actual reporting. The whole structure of the piece is typical: You start with a link-baiting headline, "Shadow of Hurricane Katrina Hangs Over Obama After Spill."

Then you go on to demonstrate how responsible you are by saying, in the 13th of 15 paragraphs, that there is a "key difference" between the spill and Katrina.

In between you dig up an academic—in this case, a self-promoting professor at a fourth-rate university—to say something that sounds detached and intellectual, but in fact is a total case of log-rolling, with the log having been replaced by a piece of bullshit in the shape of a log. I wonder how many calls Helene Cooper had to make to get someone to say something to support her obviously pre-determined thesis, that the spill is somehow comparable to the Great Flood of New Orleans?

The Times has therefore, in an attempt to demonstrate its lack of liberal bias, launched a meme in the political discourse, justifying pundits' forthcoming "balanced" debates on cable about an issue that doesn't exist.

Here are a few "key differences," in the hopes that as little as possible breath and ink is wasted on this baseless comparison.

1) Katrina was not an accident, and as such, it was predictable. We must remember that what happened in New Orleans was not a natural disaster; it was entirely man-made. The state of the levees protecting the city was well-known: the Army Corps of Engineers, which was responsible for them, knew it, and anyone who read the Times-Picayune's superb series on the danger posed to the city by a major hurricane due to the weak levees knew it too. The Corps's budget for levee construction in New Orleans was slashed by Bush 14 months before Katrina, and its overall budget was cut by $71.2 million two months before the storm. Bush, as he never tired of reminding us, was Commander in Chief, and therefore bore ultimate responsibility for not fixing the levees in the four-and-a-half years he had to do so before the hurricane struck.

2) Hurricanes are forecast; the type of accident that exacerbated the spill has never happened before. Bush had days, if not weeks, to send emergency supplies to New Orleans and help with its evacuation as the storm came from the Atlantic, across Florida, west through the Gulf, and finally north to the mouth of the Mississippi. By contrast, the mechanism that's supposed to shut off BP's oil well has never failed before. This shouldn't be read as an endorsement of offshore drilling, or an excuse for BP, which spent $700m on the rig that exploded and $1m a day to run it. But Bush could have prepared for the flood of New Orleans, and chose not to. It's true that Obama could have, in general way, done more to prevent an oil spill in the Gulf, but foreseeing this disaster would have been impossible, because no such disaster of this particular type had ever occurred. Not so with Bush.

3) Bush deliberately dismantled the system for responding to disasters, both directly and indirectly. Bush directed in 2005 that FEMA "officially" lose disaster-preparedness capabilities, leaving no federal agency to perform this essential function. In January 2001, he had named a crony from Texas with no experience in disaster management to head FEMA. This guy handed the reins to Mike "Heckuva job" Brown, a college friend who also had no experience, and had been fired from his previous job for mismanagement. Brown was at the controls when Katrina came ashore. FEMA denied flood-control requests from Louisiana.

4) Bush slept, and New Orleans wept; Obama was on the case from Day 1. Here's a timeline of the days before and after Katrina. It shows that 3 hours after first reports of levee breach, Bush was making a speech somewhere ("My Pet Goat," anyone?) and 12 hours after, Rumsfeld was at a baseball game. The governor of Louisiana made a desperate plea for help at 8pm on the 29th; Bush went to bed that night without responding. The next day, he went on vacation. Three days later a campaign had begun to blame local officials.

By contrast, the Coast Guard was on the scene within hours of the explosion at the oil rig; the DepSec of Interior was there the next day, and coordination with local officials and with BP have been constant from the beginning.

So that ought to be enough about that.


---


Gulf Coast Seafood: Fishing Industry Threatened Indefinitely By Oil Slick
KEVIN McGILL | 05/ 3/10 10:44 AM |

NEW ORLEANS — As a giant oil slick lapped at southeastern Louisiana's ecologically sensitive coast, chefs, restaurant owners and seafood dealers were certain it would squeeze the state's $2.4 billion seafood industry. They just weren't sure how badly or for how long.

Federal officials shut down fishing for at least 10 days from the Mississippi River to the Florida Panhandle on Sunday because of the uncontrolled gusher spewing massive amounts of oil into the Gulf of Mexico.


---


BP Oil Spill Waivers Capped Liability Payments To Coastal Residents At $5,000
AP/Huffington Post First Posted: 05- 3-10 10:14 AM | Updated: 05- 3-10 10:29 AM

VENICE, La. -- BP PLC said Monday that it will pay for all the cleanup costs from a massive oil spill in the Gulf of Mexico that could continue spewing crude for at least another week.

Meanwhile, chief executive Tony Hayward said Monday that chemical dispersants have worked to some degree to keep oil from flowing to the surface, though he did not elaborate. He said on ABC's "Good Morning America" that the new approach seemed to be having a significant impact.

The company posted a fact sheet on its Web site saying it took responsibility for the response to the Deepwater Horizon spill and would pay compensation for legitimate claims for property damage, personal injury and commercial losses.

"We are responsible, not for the accident, but we are responsible for the oil and for dealing with it and cleaning the situation up," Hayward said. He said the equipment that failed on the rig and led to the spill belonged to owner Transocean Ltd., not BP, which operated the rig.


---


Gibbs: 'Premature' For Obama To Change Position On Offshore Drilling
First Posted: 05- 3-10 02:27 PM | Updated: 05- 3-10 02:53 PM

The Obama administration said on Monday that it remains "premature" to rule out including additional offshore drilling as part of comprehensive energy legislation, even as Senate Democrats warn that such a provision would make the bill "dead on arrival."

White House spokesman Robert Gibbs said that the president will determine whether to stay with or abandon his call for additional drilling off various parts of the coast once he gets the findings of an investigation into the massive oil spill in the Gulf.


---


MoveOn Ad Urges Obama To Stop Future Offshore Drilling (VIDEO)

Activists opposed to new offshore drilling projects are seeing the Gulf coast oil spill as a call to action, using the crisis to urge President Obama toward a clean energy future. MoveOn.org added its voice with an ad released today titled "The Ban."

The ad features a plea for clean energy with images of the devastation caused by the oil spill and calls on Obama to reinstate the ban on new offshore drilling.

While Obama has put new offshore drilling plans on hold until the cause of the disaster is discovered, he has given no indication that future offshore drilling plans are off the table.

WATCH the ad:





LA Times Photo Gallery
http://www.huffingtonpost.com/news/gulf-oil-spill
LA Times Gulf Oil Spill Coverage
WhiteHouse.gov
http://www.epa.gov/bpspill/
http://en.wikipedia.org/wiki/Oil_spill
http://en.wikipedia.org/wiki/Deepwater_Horizon_drilling_rig_explosion#Oil_spill