Breaking: Prostitute confesses to being a prostitute. Not a baggage handler. (pt.1, pt. 2)




Jo-Vanni Roman, the Rentboy.com escort hired by "ex-gay" activist Dr. George Rekers, revealed to the

Miami New Times

today that he and Rekers did indeed have sex (of sorts) on their ten day vacation through Europe.
The male escort hired by anti-gay activist George Alan Rekers has told Miami New Times that the Baptist minister is a homosexual who paid him to provide body rubs, once a day, in the nude, during their ten-day vacation in Europe. Rekers allegedly named his favorite maneuver the "the long stroke" -- a complicated caress "

across his penis, thigh... and his anus over the butt cheeks

," as Lucien puts it. "Rekers liked to be rubbed down there," he says. In his first interview since the New Times broke the story Tuesday, the 20-year old escort, who prefers to go by the name Lucien, contradicts Rekers' contentions that he hired the escort to help carry his luggage and that he was trying to save the soul of a lost sinner. Although Rekers does have physical ailments that make it difficult for him to haul suitcases,

he wasn't hired to carry luggage

on their European vacation, Lucien said. "It's a situation where he's going against homosexuality when he is a homosexual," Lucien says.
The

Miami New Times

promises further disclosures later today, including information about a confidentiality agreement Rekers reportedly asked Roman to sign.

source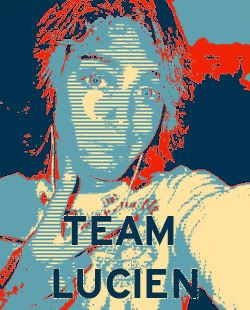 edit: Colbert Report link