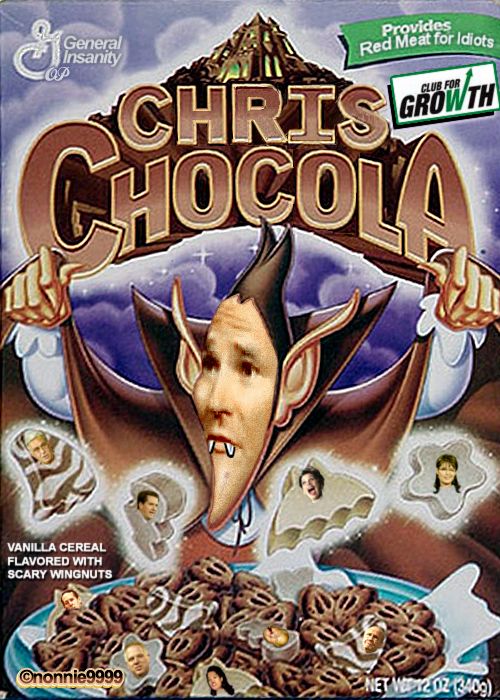 Image courtesy of nonnie9999 at Hysterical Raisins, where she used it for Cereal Wingnuts

Washington Post: Club for Growth's electoral tactics causing headaches for GOP
By Dan Eggen
Washington Post Staff Writer
Wednesday, May 19, 2010; 4:52 PM

If you want to know how Sen. Arlen Specter (Pa.) was driven from office, look beyond the Democratic primary he lost Tuesday. Instead, consider the role played by a small conservative group called the Club for Growth.

Specter bolted from the GOP last year to avoid an intraparty challenge from the group's former president, Pat Toomey, who secured the Republican nomination Tuesday and will face Democrat Joe Sestak in November. The group also helped organize the GOP uprising in Utah earlier this month that toppled three-term Sen. Robert F. Bennett (R), and was part of a conservative coalition that forced Florida Gov. Charlie Crist out of the GOP as well.

The organization, which is based in Washington but has strong ties to Wall Street, is fast becoming a thorn in the side of the Republican Party, exercising influence out of proportion to its size. The group's political action committee has endorsed 11 candidates so far and is likely to weigh in on a dozen more races by November with both endorsements and financial support, organizers said.

Its goal is to capitalize on the Republican-dominated "tea party" movement that has coalesced in opposition to President Obama's health-care overhaul, the Wall Street bailouts and other fiscal concerns, according to group leaders.

"The issues that are going to drive this election are the issues we focus on," said Chris Chocola, a former two-term House member from Indiana who serves as the group's president. "There are a lot of candidates running based on the issues we care about. If we don't have a good year, it's our fault."

But the decade-old group is causing major headaches for Senate Minority Leader Mitch McConnell (R-Ky.) and other Republican leaders, who are attempting to navigate between the demands of the energized tea party movement and a desire to attract more independent and moderate voters in November. The defeat of Bennett, regularly rated as one of the Senate's most conservative members, particularly rankled GOP leaders.

Top Republicans are reluctant to speak publicly about the group for fear of alienating voters. Former GOP congressman Tom Reynolds, who clashed with the Club for Growth when he headed the National Republican Congressional Committee during part of the George W. Bush administration, said the organization is usually helpful to the GOP but has made some decisions that have ended up helping Democrats. The group's insurgent campaign against Republican candidate Dede Scozzafava in New York, for example, led to the election of the first Democrat to the seat in generations.

"You can't call them a problem," Reynolds said of the group. "But sometimes they're at crosshairs with the party because they have their own agenda and their own scorecards."

Democrats, however, are thrilled to see a conservative group stoking discontent within the GOP. "The Club for Growth seems to be in a competition with the Tea Party to see how much damage they can do to the Republican Party and how extreme and rigidly ideological they can make it," Brad Woodhouse, spokesman for the Democratic National Committee, said in a written statement.

Although the organization hopes to benefit from populist discontent, its roots are decidedly elite. The organization grew out of the Political Club for Growth, founded by investment banker Dick Gilder, who hosted private fundraising salons at his Manhattan brokerage firm in the 1980s and 1990s for GOP stalwarts such as Newt Gingrich and Steve Forbes. That group gave way in 1999 to the Washington-based organization headed by conservative economist Stephen Moore, who has since left to join the Wall Street Journal editorial board. Gilder sits on the group's board of directors.

The organization says that 37 current House and Senate members were elected with financial support from the Club for Growth PAC, which has spent about $4 million since 2007.

Club for Growth also runs an independent political group that spent about $5 million on Internet advertising and other activities during the 2008 elections, records show. Contributors to that group have included employees of J.P. Morgan Chase, Goldman Sachs and the libertarian Cato Institute, according to data compiled by the nonpartisan Center for Responsive Politics.

Over the past decade, the Club for Growth has gained a reputation for targeting centrist Republicans, like Specter and Crist, for being insufficiently conservative on fiscal issues. In the case of Bennett, the group objected to his vote in favor of the Wall Street bailout in 2008 -- a move backed by then-President Bush -- and his work with Sen. Ron Wyden (D-Ore.) on an alternate health-care overhaul plan.

Starting in January, the organization focused on Utah's arcane system of caucuses and a convention for GOP nominees, using e-mail lists, Facebook and other Internet tools to notify and enlist ultra-conservative supporters. By packing the March caucuses with newcomers hostile to Bennett, the Club for Growth ensured Bennett's resounding defeat at the state nominating convention on May 8.

The cost of the effort was just $177,000 -- a mere fraction of the $2 million or more commonly required to topple an incumbent U.S. senator. "We took out Bennett for about as much as a senator's annual salary," said Club for Growth spokesman Mike Connolly.

Bennett, who boasted endorsements from the National Rifle Association and GOP presidential contender Mitt Romney, has said he is weighing a write-in campaign for the seat. Bennett said in an interview Friday that he and Specter had "shared our mutual dislike for the Club for Growth."

The two candidates who finished ahead of Bennett, businessman Tim Bridgewater and lawyer Mike Lee, will face each other in a June 22 primary. The Club for Growth is likely to endorse the winner, officials said.

"The Club for Growth was effective at identifying and mobilizing Utah voters who have grown tired of the old ways of Washington," said Greg Hartley, Bridgewater's campaign manager. "Until we get our fiscal house in order, incumbent politicians that are known to be big spenders will continue to be major targets of conservative PACs like the Club for Growth."

From 1999 until last month, I lived in a congressional district in which the Club for Growth interfered with GOP politics. When I moved there, the district was represented by a staunch conservative. He retired in 2004. The GOP nominated a moderate named Joe Schwarz who was easily elected. He wasn't conservative enough for the Club for Growth, who recruited an even more conservative candidate, Tim Walberg, to challenge him. Walberg won both the primary and the general election in 2006. The Club for Growth was thrilled. It didn't last long.

In 2008, Walberg was challenged by Democrat Mark Schauer, who earned a close victory. Thank you Club for Growth. If your candidate hadn't defeated Schwarz, Schauer wouldn't have had a chance at winning in 2008 and Schwarz would still be in office.