10 Million Free Books Delivered to Tennessee Children Through Dolly Parton's Imagination Library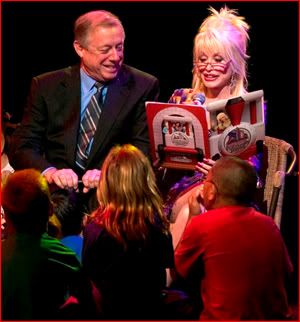 Governor's Books from Birth Foundation and Dolly Parton's Imagination Library Celebrate Milestone


NASHVILLE – The Governor's Books from Birth Foundation and Dolly Parton's Imagination Library are celebrating a significant milestone: more than 10 million free books have been delivered to Tennessee children in all 95 counties since the program began in 2004, developing their vocabulary, school readiness and a love of learning.

The milestone comes on the heels of the announcement that Tennessee is one of just two states awarded funding in the first round of President Obama's Race to the Top competition, recognizing our state's forward thinking in education reform and changing the way the nation views Tennessee's commitment to education. Dolly Parton's Imagination Library is a part of that commitment, giving all Tennessee children access to free books and encouraging a lifetime of learning.

"Over the past seven years, we've focused on those things we can do to best prepare our children for success in the classroom, including the availability of pre-K and expanding the Imagination Library across all 95 counties to instill in children a love of reading right from the start," said Governor Phil Bredesen. "This milestone shows how far we've come in a relatively short period of time and marks an achievement that will continue to pay rich dividends for Tennessee's children."

Dolly Parton, who first created the program says, "I am one of the biggest dreamers that has ever lived, but I can honestly say I never dreamed that we would give 10 million books to Tennessee's children… and the best thing of all, this is only the beginning!"

Created in 1996 by Dolly Parton as a gift to the children in her hometown of Sevierville, Tenn., the Imagination Library mails a new, age-appropriate, high-quality book every month to registered children, from birth until age five – at no cost to the family, regardless of income. Just $24 annually provides for the purchase and delivery of 12 books to one child. This cost is split evenly between a non-profit sponsoring organization in every Tennessee county, and a state budgetary allocation administered by the GBBF.

Currently, more than 214,000 Tennessee children under the age of five in all 95 counties are receiving an age appropriate, high quality book delivered each month to their home. More than 170,000 children have graduated from the program since 2004.

The books are selected from a blue ribbon panel each year to insure quality and age appropriateness for all ages including The Little Engine that Could, Spot Goes to the Farm, The Snowy Day, The Very Hungry Caterpillar, and Look Out Kindergarten, Here I Come!.

There is a little bit more at the source and then some more information on the library giving away it's twenty-five millionth book here.

Here is a story of some non-Tennessee fail and a program doing good. She does a lot of good for her home county of Sevierville and for the state in general. In the first part of June, her Imagination Library also celebrated giving away it's twenty-five millionth book at Dollywood. Dolly, I love you. <3 My nephew is signed up for this program if only I could get him to let me read to him. When he first started receiving the books they were hardbacked, now in order to save money they have switched to softcovers. My personal favorite is Llama Llama Red Pajama.