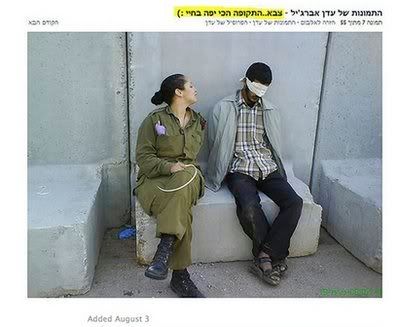 JERUSALEM (AFP) - –

A former Israeli soldier who posted on Facebook pictures of herself in front of blindfolded and handcuffed Palestinians appeared mystified on Tuesday by the uproar

.

"What's wrong with that? I don't understand," Eden Abergil told Israel's army radio, clearly bemused by the fierce backlash.

"There was no violence in the pictures, there was no disrespect," she said defiantly. "I was simply photographed with him in the background."

Abergil posted pictures on her Facebook site showing her smiling and posing in front of three prisoners blindfolded and cuffed, with a caption that said: "The army, the best time of my life."

The incident drew a

sharp response from the military, which slammed the pictures as "shameful behaviour"

and said officials would be looking into the actions of the woman, who left the military last year.

(

"This reflects an attitude which has become the norm and consists in treating Palestinians like objects, not like human beings," said the head of the Israeli Committee Against Torture, Yishai Menuchin.Collapse

)

Source: Yahoo News

From another article:

"It was not clear whether the army could punish the woman, because she has finished her compulsory military service.

The comments by the woman and her friend in an exchange below one photograph suggested how casually the picture was treated, including jokes and sexual innuendoes.

"You're the sexiest like that," her friend wrote.

"I wonder if he's got Facebook!" the woman in the photograph responded. "I have to tag him in the picture!""