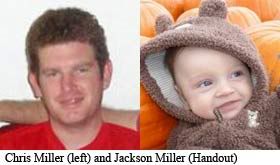 October 6, 2010 (SCHAUMBURG, Ill.) (WLS) -- A Schaumburg man and his child have been reported missing after never showing up at a doctor's appointment on Wednesday.

Police say Chris Miller, 29, picked up his four-month-old son, Jackson, from daycare and was supposed to take him to a doctor's appointment. Neither made it to the appointment. Any attempts to contact Miller on his cellphone have been unsuccessful as his phone appears to have been turned off. Miller's wife says her husband took a larger amount of breast milk and diapers than would have been necessary for the rest of the day.

Miller is 6'0" and weighs 180 pounds.

Authorities say the two are likely driving in a 2003 Black Volkswagen Beetle (Illinois plate #L324339) and may be en route to his family in Louisville, Kentucky.

Anyone with any information should contact the Schaumburg Police Department at 847-882-3586.

Source

UPDATE: both father and son have been found! i don't know any more details about why he left, but everyone is just thankful that both and safe. thanks for all your thoughts and prayers!
this is a family friend's son... please please spread this anywhere. no amber alert yet, i think the mother doesn't want to scare the father into doing something irrational, but it's also not like him to do something like this. my family thinks he might've ran off with someone, but it's just a random possibility. we're all worried and just want baby jackson back with his mom.