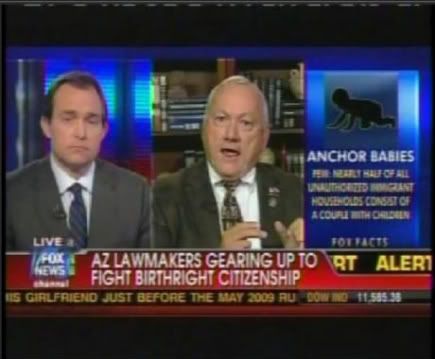 Russell Pearce Recall, Part Two, Drops Monday
By Stephen Lemons, Fri., Jan. 28 2011 @ 3:16PM

More bad news for state Senate President Russell Pearce.

There's another group that's going to file paperwork to recall Pearce on Monday: Citizens for a Better Arizona, led in part by former Democratic U.S. Senate Candidate and pro-immigrant firebrand Randy Parraz.

According to CBA's Facebook page, the group claims to have gotten close to $10K in the bank (though the effort just registered its recall fund as of today), and is already able to offer canvassers $10 per hour to obtain the 7,756 valid signatures of qualified electors necessary to force Pearce to either resign or face a recall election.

I've been hearing about this effort, and spoke with one of it's leaders last night. But I was told it was all on background, not for publication till Monday. However, today, a notice appeared in the Desert Free Press inviting folks to take part in the recall, with a link to the Facebook page, touting the effort. So I reckon the feline's fallen out of the sack.

I called Assistant Arizona Secretary of State Jim Drake about the new effort, and to ask how the recall drive filed yesterday by DeeDee Blase's group Arizonans for Better Government would impact it and vice versa.

Interestingly, Drake informed me that there can be more than one recall campaign underway for the same official, at the same time

Even better, there's nothing to stop qualified electors in Legislative District 18 from signing both recall petitions. Hypothetically, both drives could be successful, Drake told me.

And if this occurs, and Pearce refuses to resign, the Secretary of State will probably try to get a judicial order combining the two elections.

It may be wishful thinking on my part, but maybe Parraz and Blase could get their groups to work together on ridding the legislature of Russell Pearce.

But if not, the good news is that the two efforts will not cancel each other out in any way. So if they don't combine forces, let the best recall effort win.

Either way, you know Pearce's blood is boiling right now, which, of course, is a beautiful thing.

Source

On Thursday, The Hispanic Republican Group was the first to file its paperwork to launch a recall petition against Pearce. The deadline for the collection is May 27th. Other note, another recall petition was filled against Governor Jan Brewer on Friday.