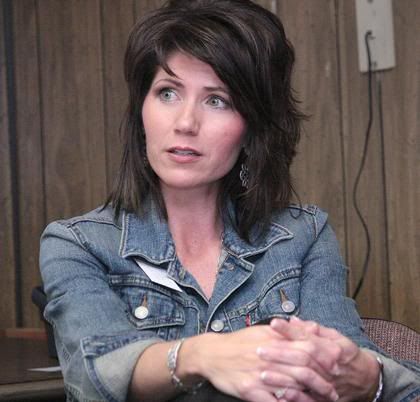 Huffington Post: Kristi Noem Dismisses Her HuffPost Hottest Freshman Title As "Unfortunate"
Anya Strzemien

Well, this is unfortunate. It appears that Huffington Post's newest "Hottest Freshman," Representative Kristi Noem (R-SD), is not elated by the accolade.

In an interview last week with The Daily Caller, the ravishing rancher finally addressed the "Hottest Freshman in Congress" title she won in January: "I thought that was kind of an unfortunate distraction, I guess, when that came out. I don't think about that too much. I'd rather they were talking about my solutions for our country rather than that, but we'll get there."

We can--and always could--do both. When HuffPost's first-ever "Hottest Freshman" and fellow Republican Representative Aaron Schock won in 2009, the congressman graciously penned a blog post titled "Thank You, Readers," and turned the acceptance into an opportunity to discuss some of his key issues. No problemo.

The rest is history. Representative Schock has become one of the most recognizable faces in Washington, and a Huffington Post star in his own right. He even swung by the office last fall for a surprise visit. Some might call that going beyond left and right.

After being sworn in last month, Noem was up against seven other handsome congressional contenders for "Hottest Freshman." 10,000 votes later, our readers let it be known that they found Noem to be the fairest of them all.

HuffPost Style then contacted Representative Noem's office in Washington to ask if she'd be interested in blogging, and after a rather confused response, they asked us to email them the details. Heartbreakingly, we are still awaiting a response.
HuffPo, putting the "oh no they didn't" into
ontd_political.