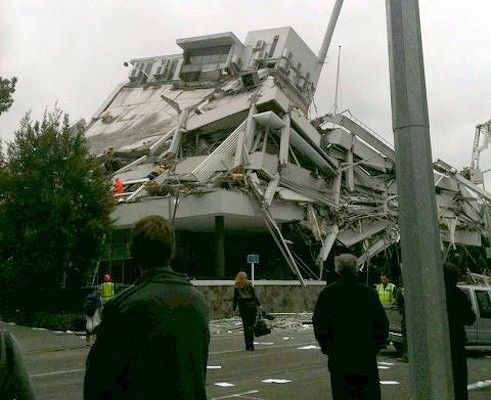 A powerful earthquake has struck the New Zealand city of Christchurch bringing down buildings and buckling roads, with reports of deaths and serious injuries.

The US Geological Survey says the quake was 6.3 in magnitude and struck five kilometres from the city at a shallow depth of just four kilometres.



It says the quake hit shortly before 12:50pm (local time), just five kilometres to the north-west of the city.

Eyewitnesses described the scene as "horrendous".

"There has been a lot of damage, our TVs have been smashed and there are big cracks in the house. Neighbours have lost brick fences," said Nicholas Hextall, who lives in central Christchurch.

ABC journalist Emma Pollard is in Christchurch and said the quake lasted for around 30 seconds to a minute.

She described hearing glass smashing and people screaming outside and said most of the historic buildings in the central part of Christchurch she walked through had been reduced to rubble.

The ABC's New Zealand correspondent, Dominique Schwartz, said the quake brought down facades and buildings, and has created flooding in main streets due to burst water mains.

All phone lines to the city on the South Island are down and Orion Energy says large parts of the city appear to be without power.

Pictures show cars that have been crushed by bricks and parts of buildings. Christchurch Cathedral has been badly damaged with the spire lying next to the church.

The hospital has also been damaged and is reported to have been evacuated.

A New Zealand Herald reporter says the quake lasted for about a minute and was extremely violent.

Many people are now out on the streets.

TV NZ is reporting that the Christchurch police station has been evacuated.

Twitter users have reported feeling the quake in Wellington and Dunedin.

Christchurch was struck by a major 7.1-magnitude earthquake in September last year. That quake was felt through much of the South Island and caused widespread damage.

The region has been struck by thousands of aftershocks since the original quake.

New Zealand, which sits between the Pacific and Indo-Australian tectonic plates, records on average more than 14,000 earthquakes a year, of which about 20 would normally top magnitude 5.0.



suzycat, I have a feeling you're in Christchurch, when you are able can you reply. I'm thinking of you. Is safe and sound with her family. Yay :)

This is a fast changing news report (as you would imagine), the source below keeps on getting updates. But they now report multiple deaths. This hit at lunchtime Tuesday, so not good.

Different News Sources

ETA: Livestream video can be found http://www.abc.net.au/news/abcnews24/ (thanks to laerwen)

And the Sydney Morning Herald has a fact sheet which keeps getting updated -
http://www.smh.com.au/world/christchurch-quake--what-we-know-20110222-1b3cx.html

NZ News: http://www.stuff.co.nz/ thanks blue_raven

Source ABC News