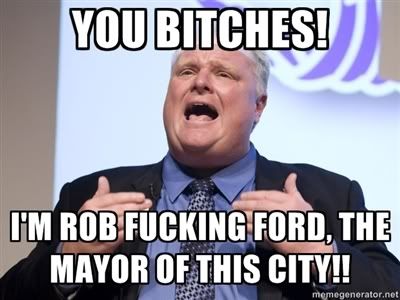 Toronto Mayor Rob Ford is denying he called a 911 dispatcher names during an emergency call on Monday, but admits he swore and apologized for expressing his frustration "inappropriately."

Ford issued a statement Thursday outlining his version of events surrounding 911 calls he made after Mary Walsh, part of the CBC-TV comedy show This Hour Has 22 Minutes, ambushed him in his driveway as the character Marg Delahunty, with cameras rolling.

"When I made the 911 call, I was concerned and upset. I was repeatedly told police were arriving soon," Ford said.

"In another call, I expressed frustration with the delay and said that I had to leave to go to city hall. I did use the f-word at some point as I expressed my frustration with the situation. After being attacked in my driveway, I hope I can be excused for saying the f-word. I never called anyone any names. I apologize for expressing my frustration inappropriately."

Ford's statement came after a report by CBC News that quoted sources who claimed Ford turned on the dispatcher who took one of the calls and said: "You … bitches! Don't you f--king know? I'm Rob f--king Ford, the mayor of this city!"


Ford said in his statement the allegations are "absolutely false."

He also said he only found out after the incident that the two people who had showed up at his driveway were part of a CBC-TV comedy team.

He said the crew didn't leave when asked and trespassed on his property.

Ford told reporters Monday after the run-in with the 22 Minutes crew that he called police after his daughter, who he says he was trying to drop off at school, got scared.

"I didn't know who they were, and obviously I've had death threats," Ford said Monday.

"I'm up for the games. I have no problem, you know what I mean, and I'm open to the media, but when you come to my private house early in the morning and ambush me that's — I think that crosses the line. I just told the police, and they'll take it from there."

Recordings of the call have spread like wildfire throughout the police service — even though officially Toronto police spokesman Mark Pugash tells CBC News they can't discuss a private call to the 911 service.

Dispatchers sent a crew on high priority, arriving at his Etobicoke home 10 minutes after the call.

Seglins said Ford won't discuss his comments to 911.

CBC News contacted the Toronto Police Association, the union that represents the 911 call takers. The association's president, Mike McCormack, refused to discuss the situation or the complaints of his members who work in the Toronto police radio room where 911 calls are received.

The situation comes a week after the Toronto Police Services Board approved a new police budget for 2012 that came after a protracted battle that involved talk of possible layoffs.

In the end, Chief Bill Blair won't be forced to lay off any officers next year. Taking into account labour cost increases and inflationary pressures, the budget will go up $6 million, to $936.3 million.

(HILARIOUS) VIDEO @ SOURCE

Ahahahahahaha. I can't wait for the 911 tape to leak - so making a remix.